Ecommerce site owners rejoice! Google Chrome is helping you with one of your biggest issues – Cart Abandonment – for FREE!
With Chrome's overwhelming market share, the addition of the Abandoned Cart box has the potential for enormous impacts, especially as we approach the first holiday season, 2021, with Chrome's new Abandoned Cart feature visible on Chrome's start pages and tab pages!
Desktop view of Google Start Page
Your Google Chrome start page now displays your search bar, shortcuts, and cards for recipes, carts, and discounts.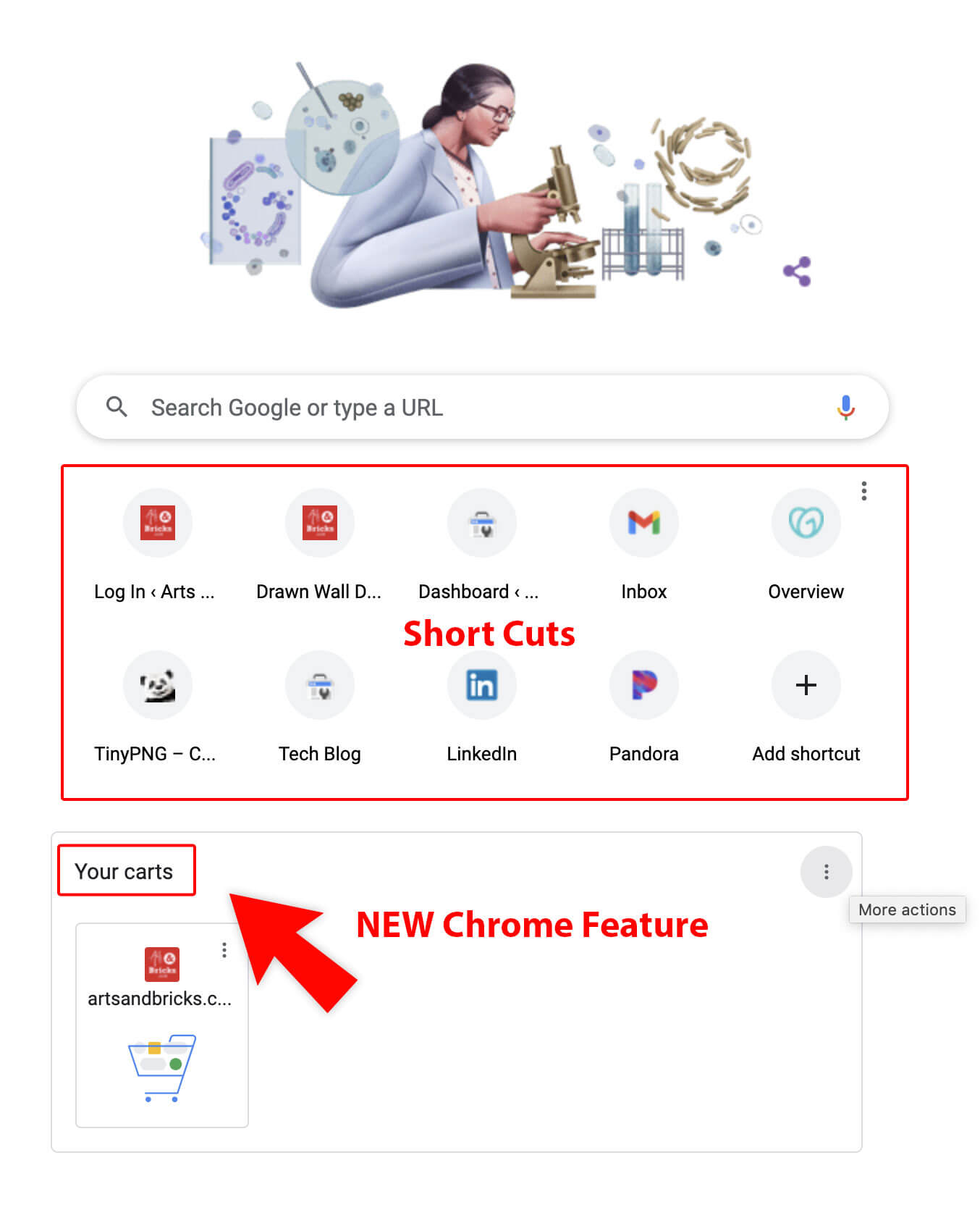 The abandoned shopping cart even shows you a thumbnail of one of your forgotten products (or defaults to a shopping cart icon).
The potential for increased revenue: cart abandonment stats
Why is Chrome's Cart feature good for eCommerce brands?
Reengaging shoppers and encouraging them to check out is a PRIORITY item that is difficult to execute successfully. Along with checkout optimization efforts, retargeting shoppers is the crucial tool brands use to reengage shoppers.
Typically reengagement is attempted by purchasing retargeting ads, using paid retargeting services that may text or email shoppers after cart abandonment, adding blinking visuals to a shopping cart browser tab title, or using internal systems for retargeting emails and texts.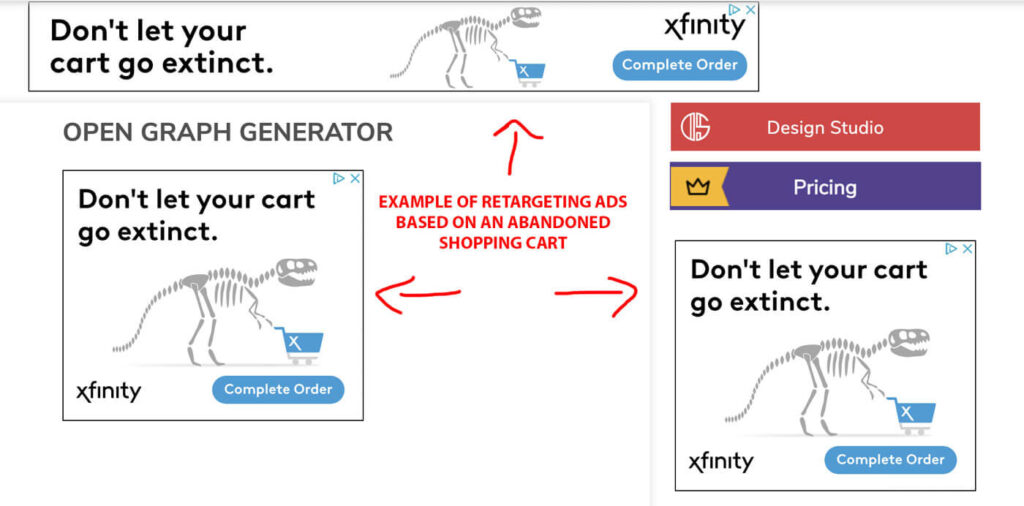 Now there's a NEW, FREE HEAVY-HITTER that works in conjunction with current eCommerce brand's retargeting efforts.
Google is now showing users their abandoned carts directly on their desktop's personal Chrome start page!
Google announced this start page addition in May of 2021. Users have documented that eCommerce platforms such as Shopify and Woocommerce are compatible with this new feature and large brand retailers like Amazon, Gap Brands, and Lowes.
Why is this Chrome 'Open Cart' reminder good for shoppers/users?
To put it simply: Usability. Ease of use. Convenience.
Google automatically saves the progress you've made and allows you to reengage and finish your order at a later date, saving you time and making online shopping more convenient!
This feature enables you to effectively "pause and save" your online shopping transaction until you're ready to checkout, maybe waiting until just after payday. This "cart saving" feature helps you to NOT do the extra work of re-adding products to your cart or perhaps retyping your checkout information.
Additional features for consumers will be showing discount coupon codes and loyalty program information. Google says, "Coming soon; we'll let you link your favorite loyalty programs from merchants like Sephora to your Google account to show you the best purchase options."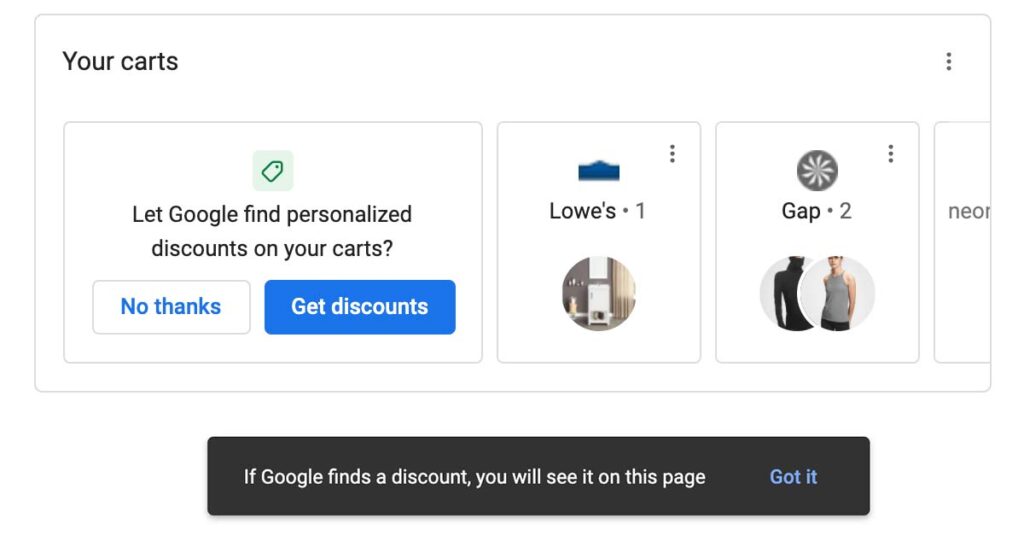 Card Settings for Your Carts in Google for Consumers
You can edit your customization settings in Google Chrome using the vertical ellipse in your Carts area. Learn more about carts in Chrome from Google's docs.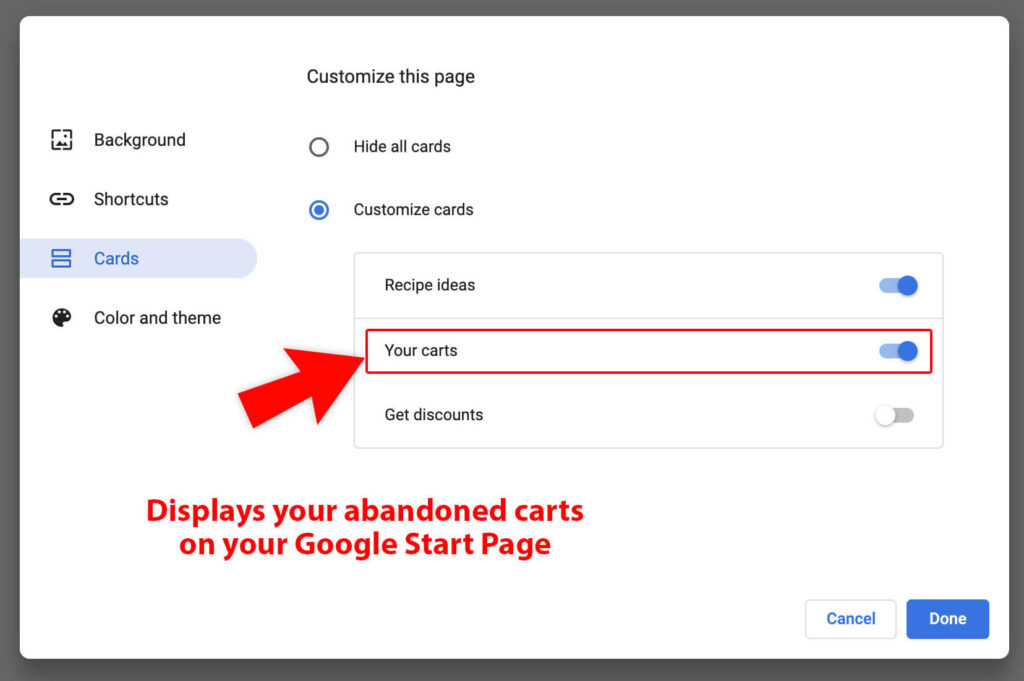 Questions about the Google Chrome's Your Cart feature, also known as Chrome Cart
Is Chrome's abandoned cart reminder on mobile devices, too?
As of November 2021, the Chrome abandoned cart feature is only visible on desktop start pages and new tab pages. Carts are not available on mobile devices.
How long are my abandoned carts shown in my Chrome browser as a Chrome user?
As a user and shopper, your cart's visibility in Chrome is until your finish checking out or for 14 days. (Source: Google User Docs)
As a retailer, how do I make my store show up in Google's Chrome Cart?
It appears that the abandoned cart functionality is automatic. Retailers do not need to take extra steps to be included.

The inclusion of abandoned carts in the Chrome Cart is based on cookies and tracking in your local browser. If as a user your browser cookies are turned off, this functionality will not be active. If as an e-commerce site your cookies and tracking are limited (perhaps due to Europe's GDPR compliance), this functionality also might not be active.
Which e-commerce platforms are compatible with Google's Abandoned Cart feature for shoppers?
The feature appears to use browsing history and is compatible with most shopping sites. It is not exclusive to only Google shopping merchants.

Through personal exploring, I've found that most large brand retailers, including Gap Brands, Lowes, and Amazon automatically show up. Also, large eCommerce platforms such as Shopify and Woocommerce are compatible.

I found that my Gap shopping cart only showed up when I'm logged into both Gap and Google with the same email address. When I shopped Gap as a guest, then the abandoned shopping cart did not (at least immediately) show on my personalized Google Search page. All of my tested Shopify shops show up immediately without requiring a login. Some WooCommerce shops showed up regardless of whether I am logged in to the retailer's WordPress site with my google account email and some did not. Specifically, a European-based Woocommerce site did not show up, perhaps due to cookies/tracking limitations.
How can I test if an e-commerce store's shopping cart is shown in Google Chrome's new Your Cart custom card?
The easiest way to run this test is to log into Google Chrome. Now, go to the e-commerce site that you want to test. Add an item to your shopping cart. I've found that I need to be logged into the retailer's site for the Chrome Customized Card's Abandoned Cart feature to work. Then close the tab that you were shopping in. Now, open a new Chrome start tab (with the Google search bar), and you should now see the cart that you just "forgot."
Happy Shopping and Selling!
Have questions or facts to share about Chrome's Cart cards? Share away in the comments below.