Existing as a small business on Google should be a top priority for all local businesses.
Surprisingly, most of my studio's new clients do not know about Google My Business, and if they do, they haven't looked at their profile in years!
Creating a professional profile and existing as a business in Google's Search Results and Google Maps is genuinely one of the most simple and IMPACTFUL services a digital agency can provide a new business owner.
If you're a local business, you want to check "Create Google My Busines profile" off your to-do list right away!
Manage your Google Business profile
Claim ownership and create your business profile at https://www.google.com/business/. Typically, Google verifies Google Business Profiles by mailing a postcard containing your unique pin to your physical business address. A Google verified business essentially says to the world, "this is a legitimate company that exists and is actively conducting business."
The "reward" for playing nicely with Google and verifying your local business is that your business is then shown in Google Maps and Google Search results' Knowledge Graph.

As a Google verified business, searches for your business name will result in your Google profile's business information being highlighted and displayed on the right side of the search results page.
Business profiles and famous people's bio are shown in Google's right-column infobox; the infobox is known as the Google Knowledge Graph.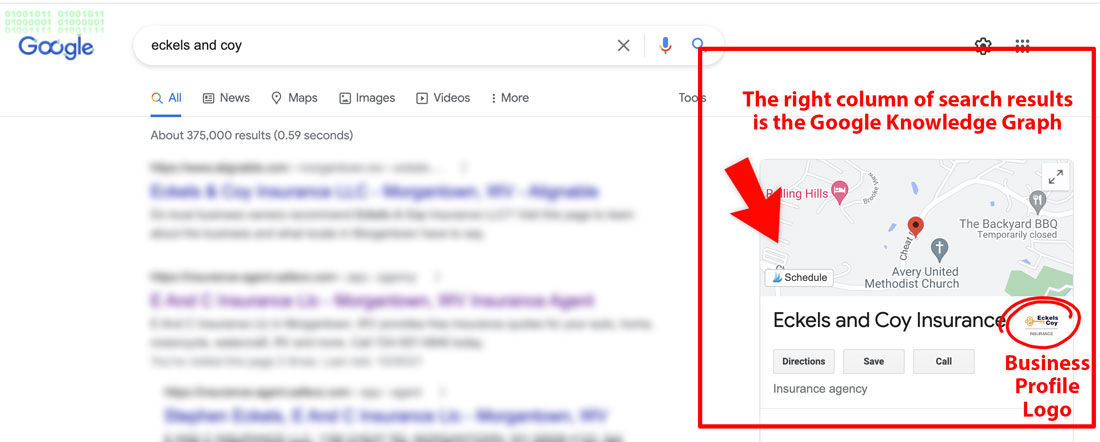 Google My Business Identity
Google My Business is a branding opportunity! Make sure to upload properly formatted images to your profile. The essential branding elements are your logo file and cover image file.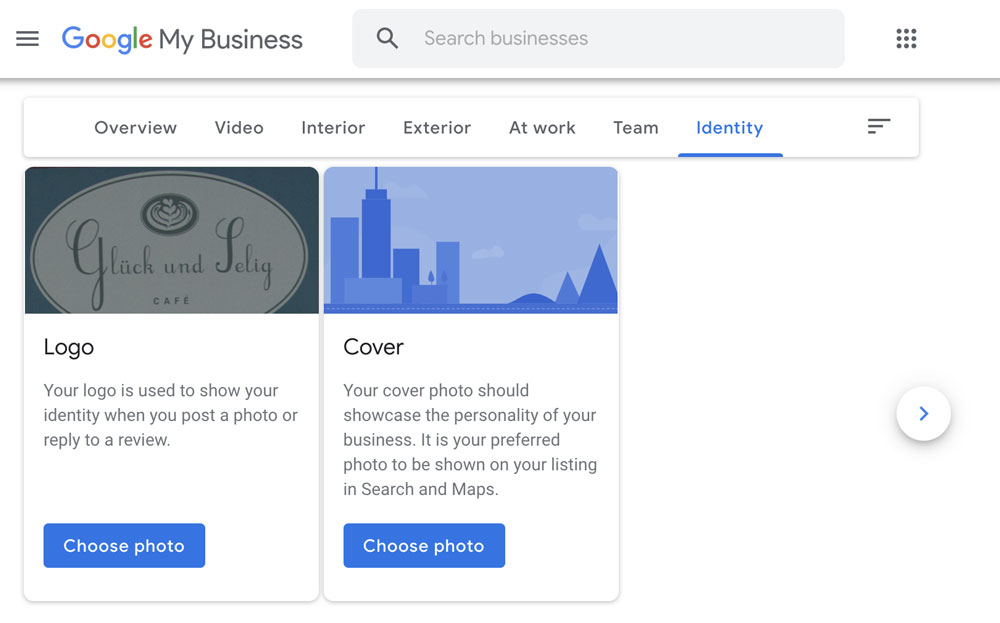 Google My Business Logo
Your Google My Business profile includes a logo file. Your business logo's file dimension should be a square image file with a minimum of 250px by 250px and ideally be sized to 750px by 750 px. Your logo will serve as your company's profile picture.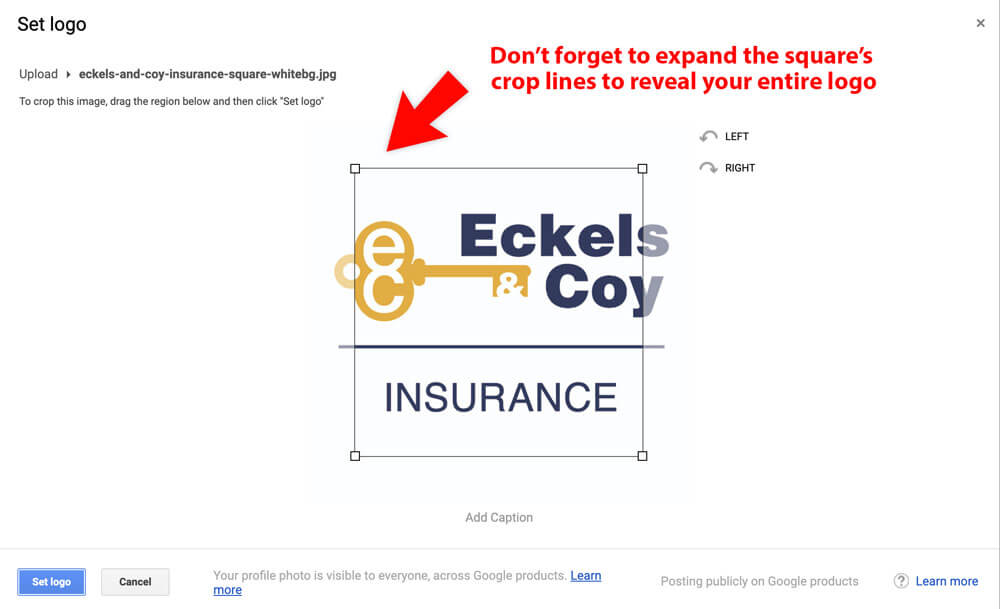 Google My Business Cover Photo
Google's default business cover photo is a city and mountain scene with a car in shades in blue. It is sized to 816×512 pixels. For customization, use this size or the same ratio. I've also read that the perfect size is 1024 x 576 pixels (a 16:9 ratio). Your business cover photo is the preferred photo shown for your business in Google Maps or Search.

Add your business details – the info
The info area is critical because this content area confirms your business's contact information, your physical service areas, and your hours of operation. Your Google My Business "business details" area is where Google pulls your business hours. If your hours are wrong here, your business hours will subsequently be incorrect in many places across the web, not just in Google.
Hint: when customers search your business, they will likely see the hours listed here first! Many third-party applications and directories pull your business's hours from this data. Also, Google prioritizes these hours on results of mobile and desktop searches, maps, and more.
I can't stress this enough…
If you close your business unexpectedly, for instance, for bad weather
or
If you change your standard business hours for any reason, including holiday hours
Make sure you update your hours of operation in Google My Business. It's also a great idea to make a Google Post, Facebook Post, and Instagram post about the change to your operating hours too. Don't forget to post a notice on your website, too. Your customers will THANK YOU!
Don't miss adding your business's Products and Services to Google My Business
Tell Google what services your company provides and what products you sell by thoroughly filling out your profile's Products and Services area. Make sure to use keyword-rich titles and descriptions.
You can choose Primary Categories and Subcategories for Business Services. Add all this relevant. For instance, if you're a local dentist, you may select "Dental Clinic" as your primary category and "Dentist" and "Cosmetic Dentist" as your subcategories.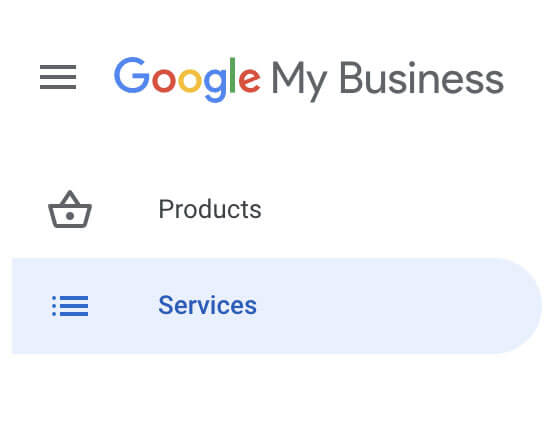 Post Updates and Offers to Google My Business
Google allows businesses to post updates and offers to their business profile. These posts are visible in Google Maps and Google Search next to your company information.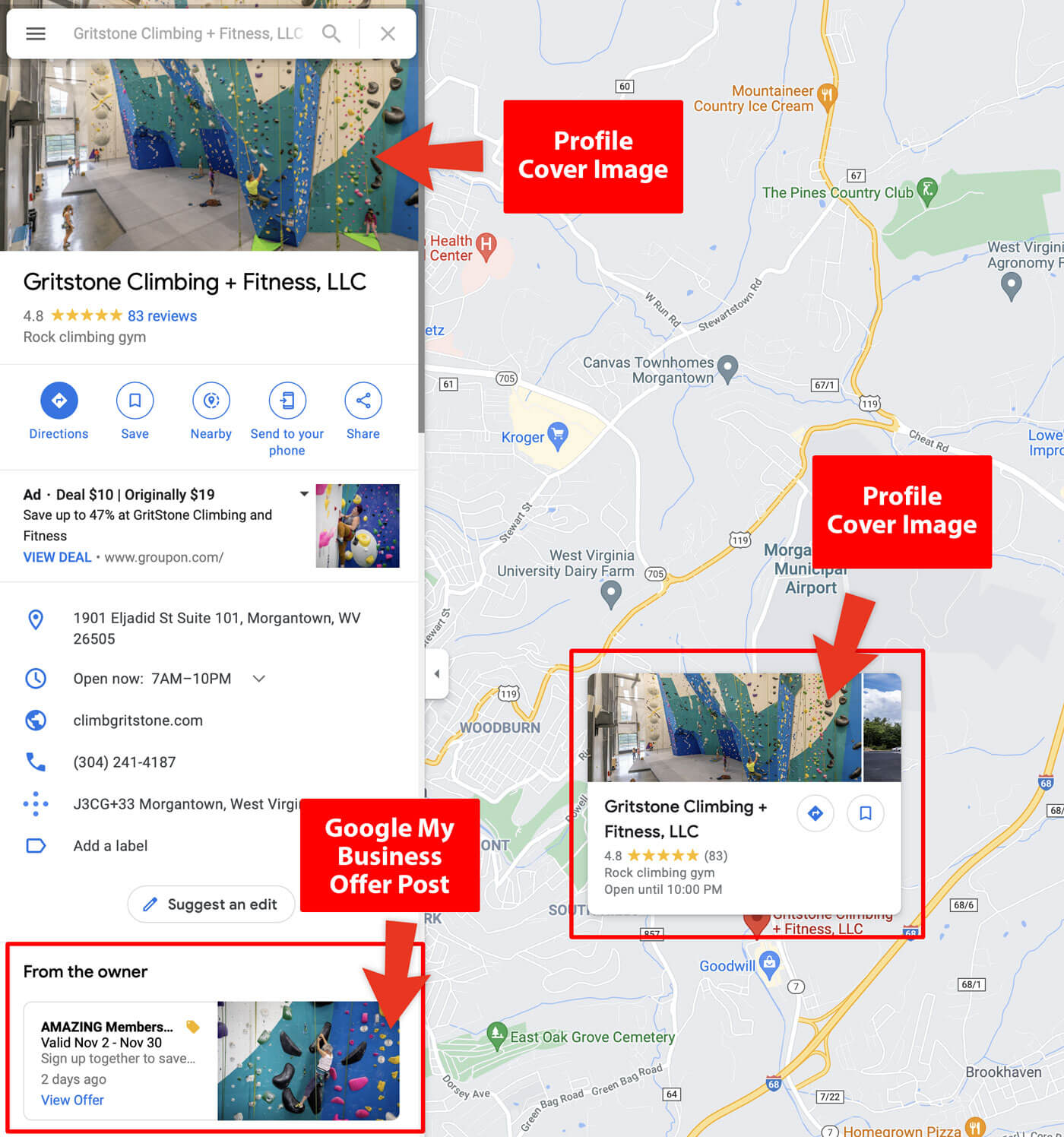 Post often. According to Google, after 6 months your most recent post will no longer be highlighted on your Business Profile, so at least post 2x a year!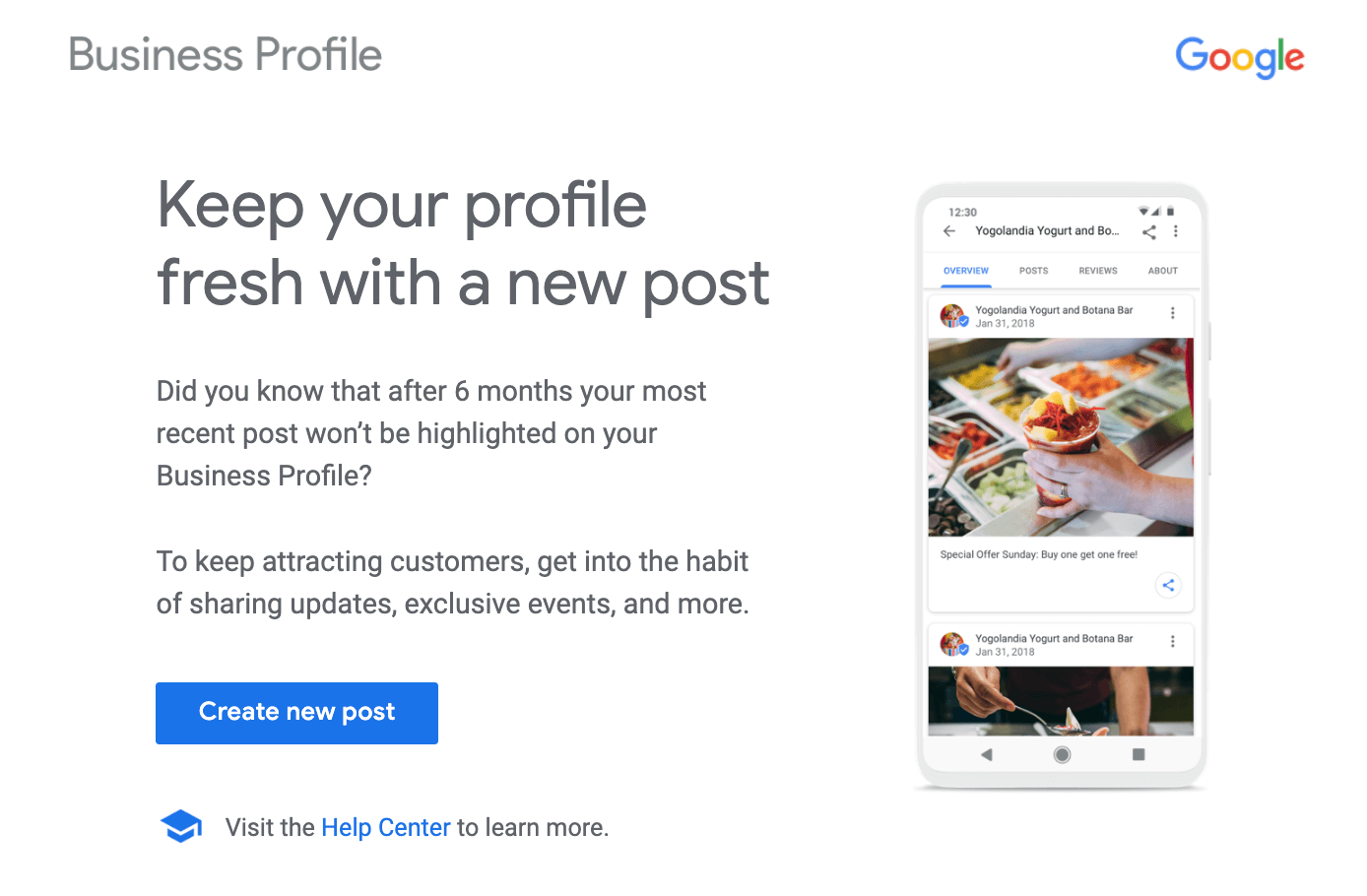 What does "posts aren't highlighted after 6 months" mean?
Posts "aren't highlighted after 6 months" means that Google limits the time a post is highlighted across its products. At one point posts were visible for only 7 days, now the intent is to display posts for 6 months. I received a marketing email encouraging a new post at the 6-month date, however, my post is still visible even a few days later. To note, there is an archive link that shows older posts. This archive listing is accessible from the VIEW ALL button. Therefore, essentially "highlighted" means showing up on Google Maps and the Knowledge graph as a post without having to click VIEW ALL to be found.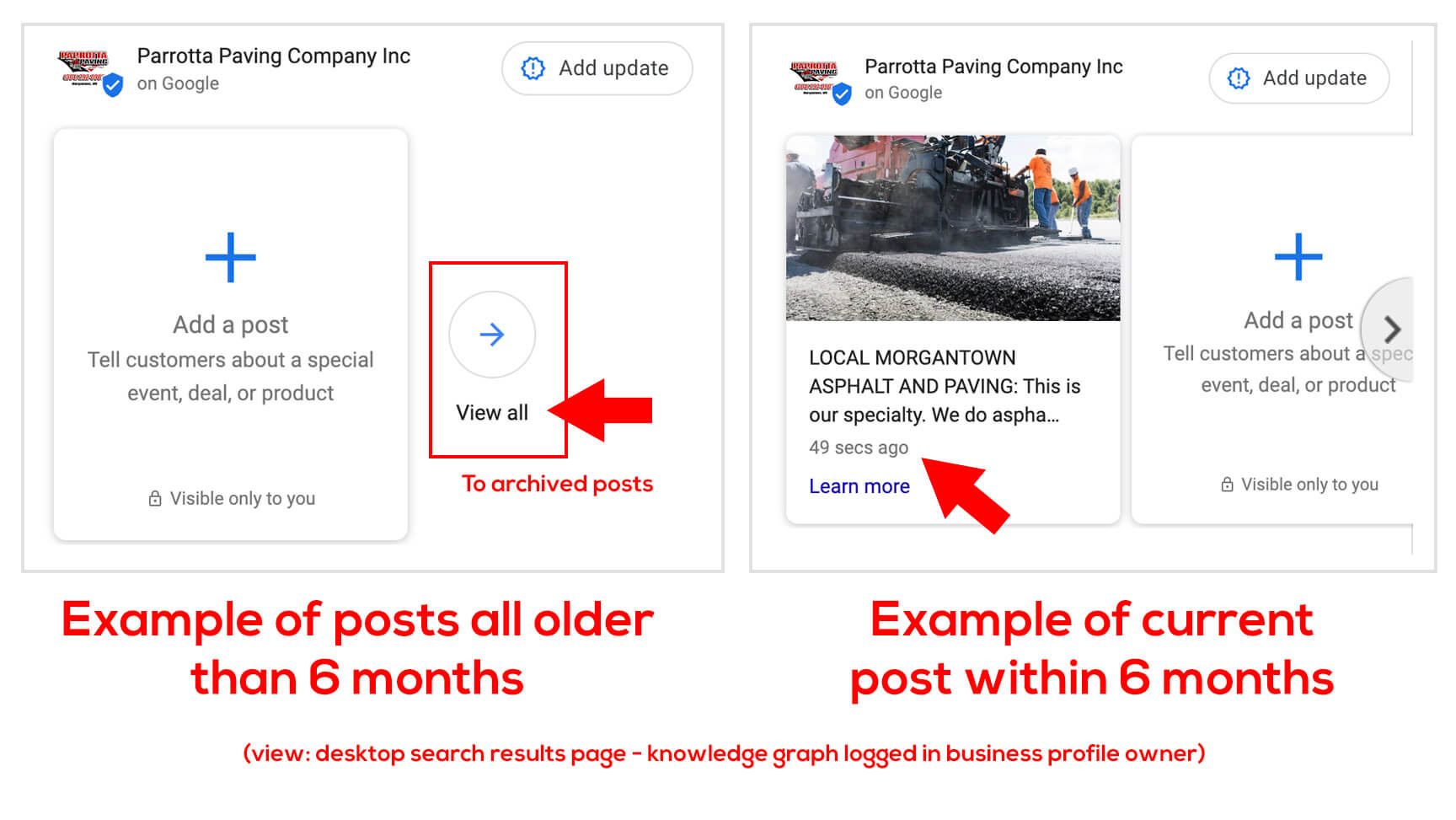 Ask for Customer Reviews on Google
From your Google My Business login, look for the card that reads, "Get your first review" or "Get more reviews." Click on the Share review form button to copy a link that you can share with customers on your website, social media text, and email—reviews matter. Don't forget to reply to your reviews, both the good and the bad ones!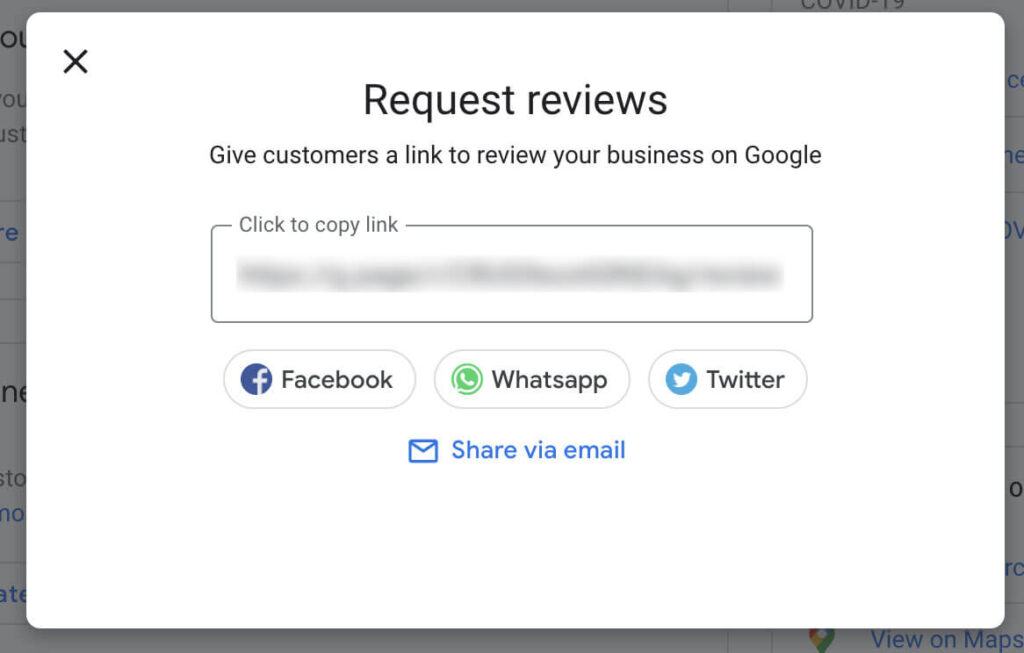 Profile Ownership and Users
Make sure the business owner's email is a manager of the Google Business account
This tip is so important! I've worked with many business owners who do not have access to their company's crucial online business profiles.
If you're a business owner, make sure you ask to be added as a management role to every type of account your business has; don't rely on agency, employee, contractor, or staff email addresses as managers and owners of your business's online presence. If it's your small business, make sure you directly have access- end of the story.

Add as many users to your Google Business account as you like. With the new 2021 layout update of managing your account on Google Search results pages and Maps, your management options are now icons in a block. Adding a user is available from the vertical ellipse in the top right.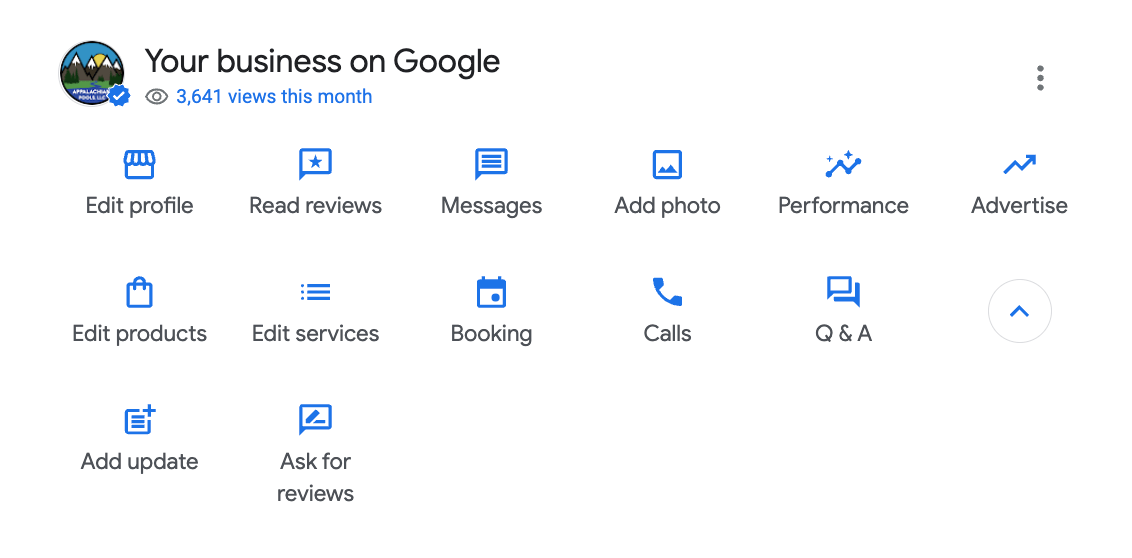 From the vertical ellipse dropdown, choose "Business Profile Settings," then choose Managers. Only an owner of this Business Profile can add, edit, or remove managers. There can be multiple owners in Google. This is another reason the business owner should ALWAYS be an owner of Google accounts.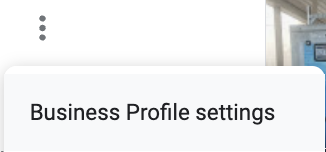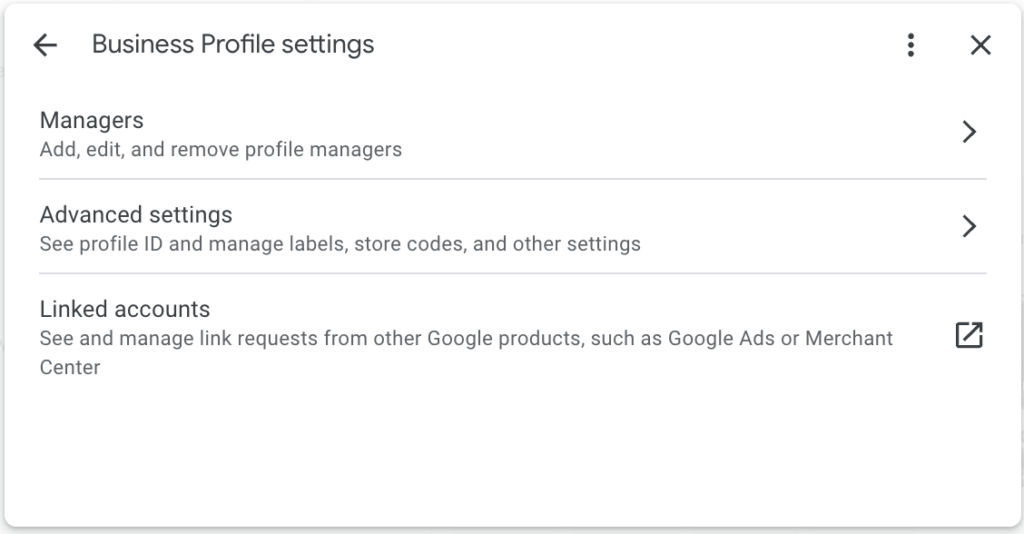 What type of logo file should I upload to my Google My Business profile?
You want to upload an image file with an extension of jpg or png. Use a square version of your logo for your profile logo submission at a recommended size of 750px by 750px.
What is a Google My Business Cover photo?
Google says, "Your cover photo should showcase the personality of your business. It is your preferred photo to be shown on your listing in Search and Maps."
Happy Site Optimizing! (Now go get found online!)