Questionable SPAM emails, contact form submissions, and even unsolicited snail mail letters are often sent to me by my web design clients.
I appreciate that my clients see me as a digital expert and reach out to me directly, even for SPAM email questions. Sometimes a client just wants a second opinion, and asks something like, "Can you confirm that this is junk and I can throw it out or ignore this email?" Othertimes, I can't help but think, "You could easily find out the answer to this question with a single Google search." (Congratulations, you likely found this page because of a Google Search!)
These are a few of the most common SPAM email attempts I'm asked about: copyright violation emails, domain expiration letters, and google recovery emails.
---
Copyright violation SPAM emails
In 2020 and 2021, I've seen multiple versions of a scam email that starts by reading:
Your website or a website that your company hosts is violating the copyright protected images owned by me personally.

Email or Contact Form Spam
The most important thing to know about this email is that it is fake and is trying to make you install ransomware! Yikes! You can read more about this destructive Trojan in an article written by Josh Kirschner on Techlicious.com.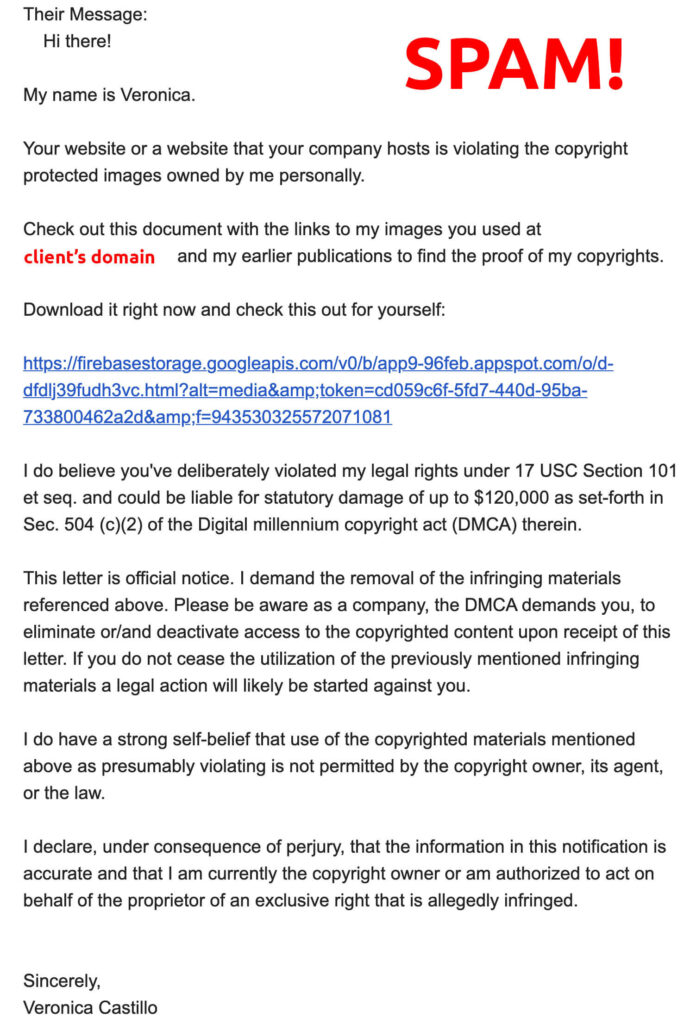 ---
IDNS Domain Name Expiration Notice
While not directly SPAM, this is an unsolicited snail mail offer that is written in a way that confuses consumers. You are receiving this letter because you already OWN a domain name with another registrar. Your domain name is VERY LIKELY NOT registered with IDNS. (If it was, you'd likely already be on an auto-renewal plan and would be receiving an email about auto-renewals).
Your domain name is likely up for renewal with GoDaddy, Bluehost, Name.com, or another popular registrar. Moving a domain name takes valuable time and is rarely worth the effort. Moving a domain registrar is definitely not worth saving a few dollars or in this case, paying more!
Most importantly, the advertised pricing in solicitation letters is often much higher than the industry standard. You can renew your domain for less than $10 a year at namesilo.com. IDNS is charging $50/year for the same renewal service!
My take: you can safely shred or throw out this piece of junk mail!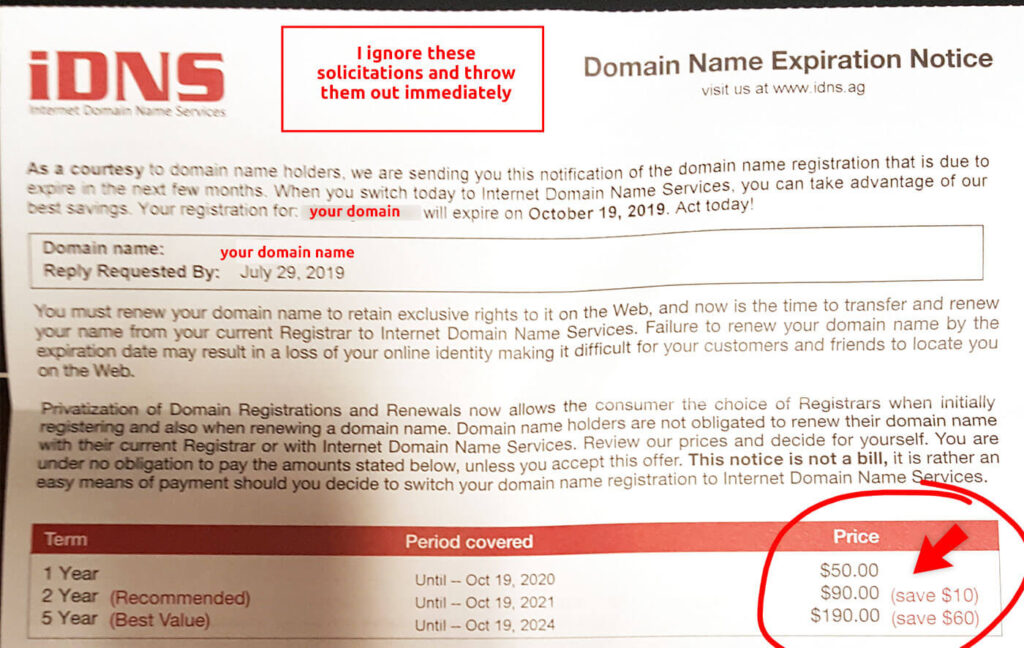 ---
Phishing Email for Google Recovering Email Address or Security Alert [Often in Russian]
The important thing to do is here is DO NOT click any links in this email. You do not want to accidentally approve or link an unknown external email address to your account.
Remember a real google email is something very simple like noreply @ google.com — an email with a subdomain such as accounts.google is not really from Google. It is very confusing because the "From Name" reads as simply Google.
Any email received from a google address that has the subdomain name of accounts in it is spoofing.
no-reply@accounts.google.com 
Note the word accounts before google.com makes this is a spoof email address and a phishing spam attempt.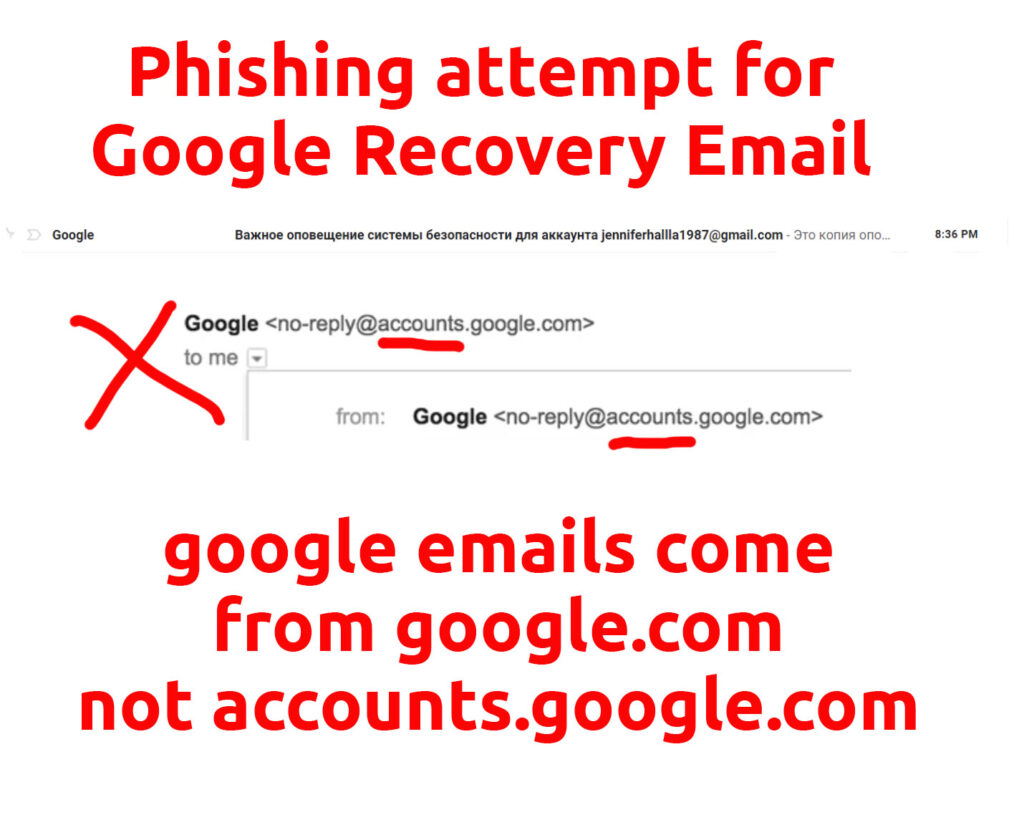 Learn more about the email recovery Google Phishing Scam in this Google Support thread.
Website Authority Marketing (Looks like a physical bill mailed to you)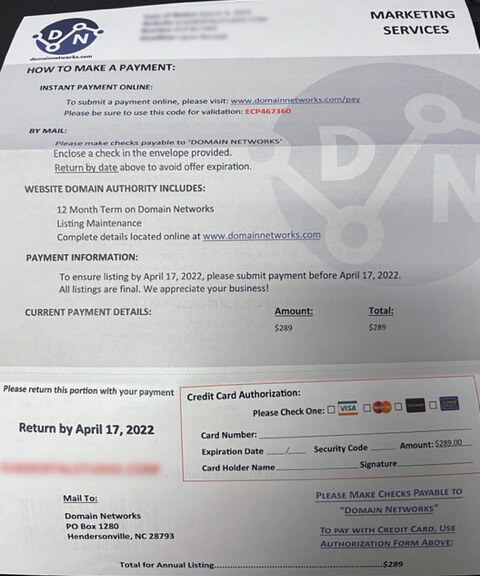 Did any of these examples help you?
I hope these examples saved you some grief, and maybe some money, too. If they did, let me know in the comments!