As a graphic designer, I love type! Here's a round-up of the best typographic games. They're a pleasant way to spend time. You'll find yourself exploring kerning, font-shaping, font pairing, testing your identification skills, and even exploring the history of famous fonts. Enjoy!
Kerntype: Learn to Kern Game
Play Mark MacKay's Kerntype game to practice kerning and train your eye.
---
Shapetype: A letter-forming game
Play Mark MacKay's Shapetype letter-forming game to test your knowledge of letterforms set in 10 popular typefaces.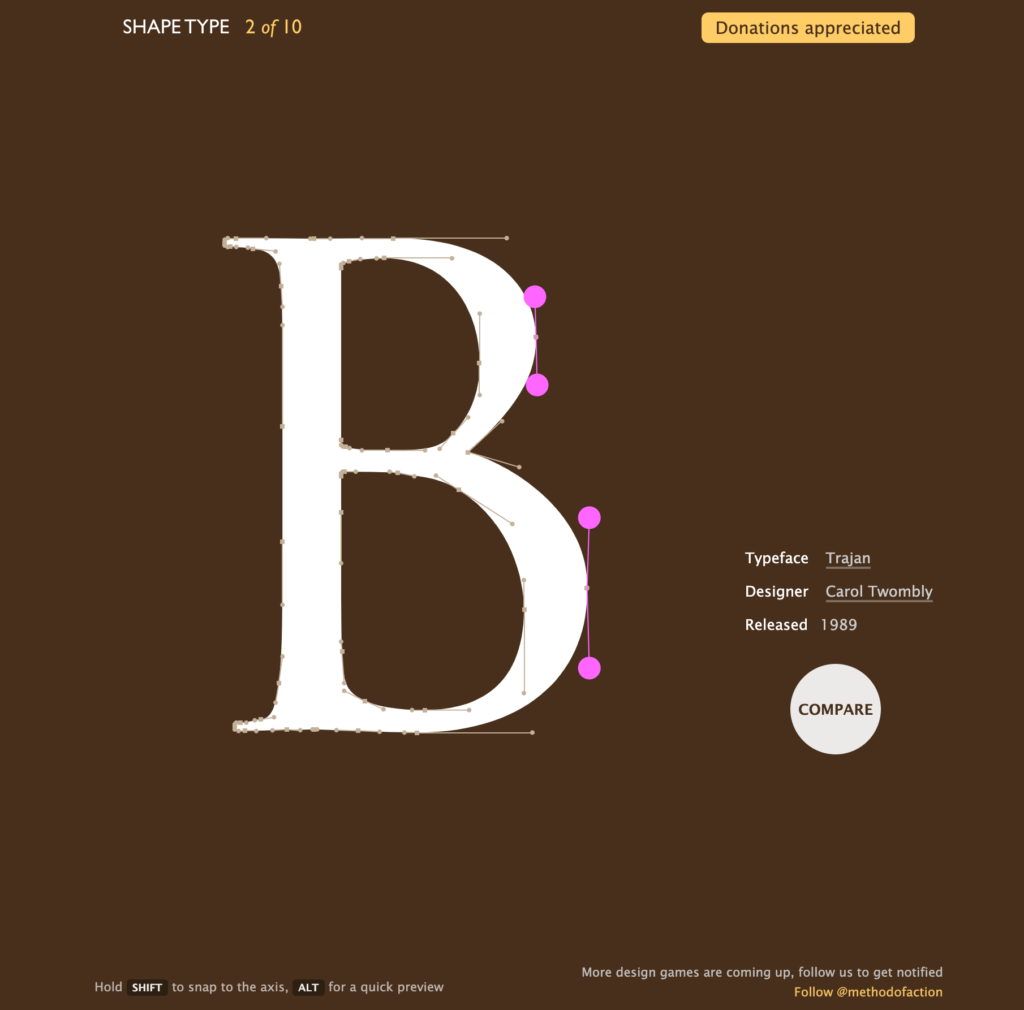 ---
Type:Rider Video Game
First created in 2013, this award-winning artistic and immersive game is available on many devices, including Microsoft Windows, Android, iOS, PlayStation 4, PlayStation Vita, and Nintendo Switch. The game player is the : (colon) and travels through ten worlds each based on an established font.
---
TypeConnection: A font pairing game
Learn to make appropriate font pairs with this clever type "dating" game designed as Aura Weiner's MFA thesis project.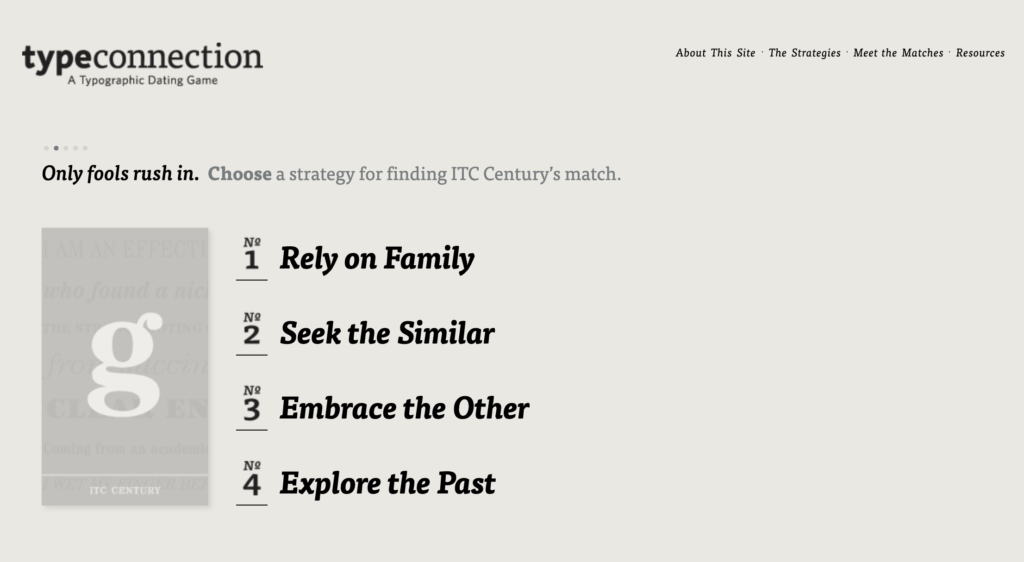 ---
TypeWar: Text identification game
Answer the simple question, "What typeface is this?" repeatedly. Set streaks, move up levels, and see stats. Sign-up and log in to play further than ten levels. Play TypeWar.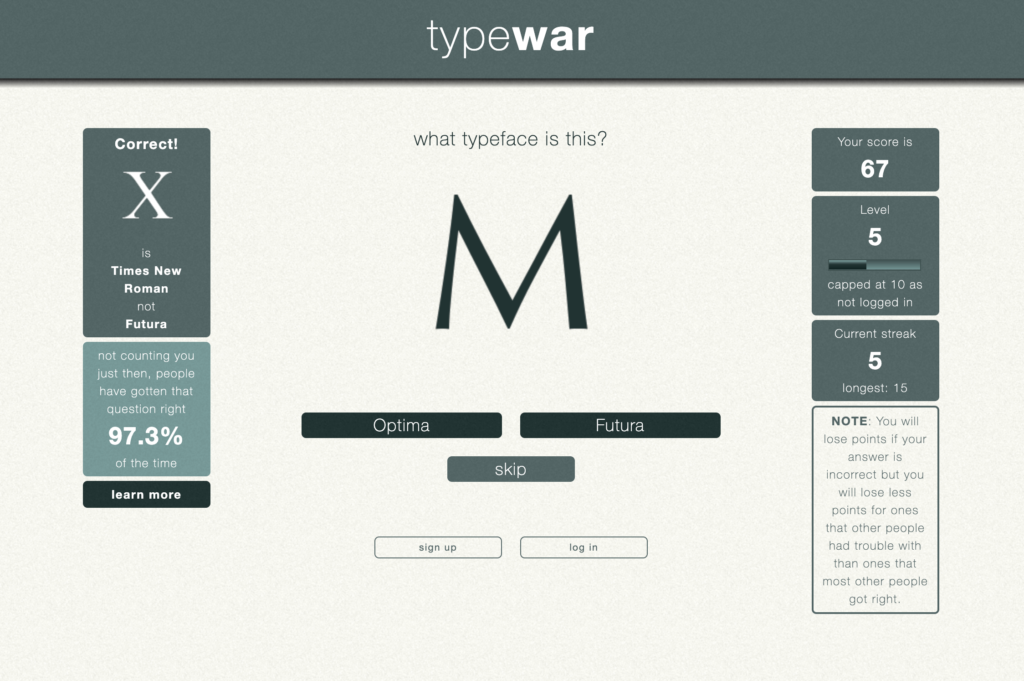 ---
RagTime – Fix ragged edges of text game
Ragtime plays catchy ragtime music as players use their keyboards to adjust the ragged edges of text. A 2011 project of Fathom Information Design, this game is a bit dated due to keyboard manipulation only. However, it's still a fun way to teach and explore this valuable typographic skill for new graphic designers.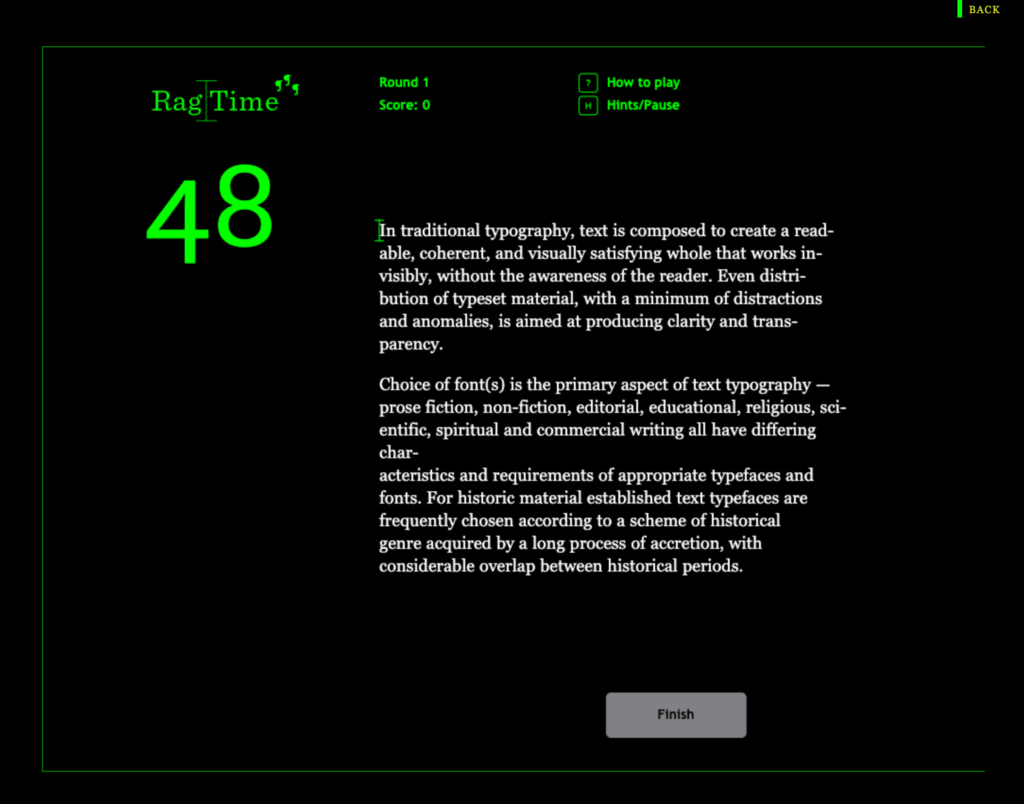 ---
The Font Game: Identify fonts by words
The Font Game is a 30-question multiple-choice font identifying game provided by ILoveTypography.com. A score of 50% or more produces a coupon code for 10% off future font purchases.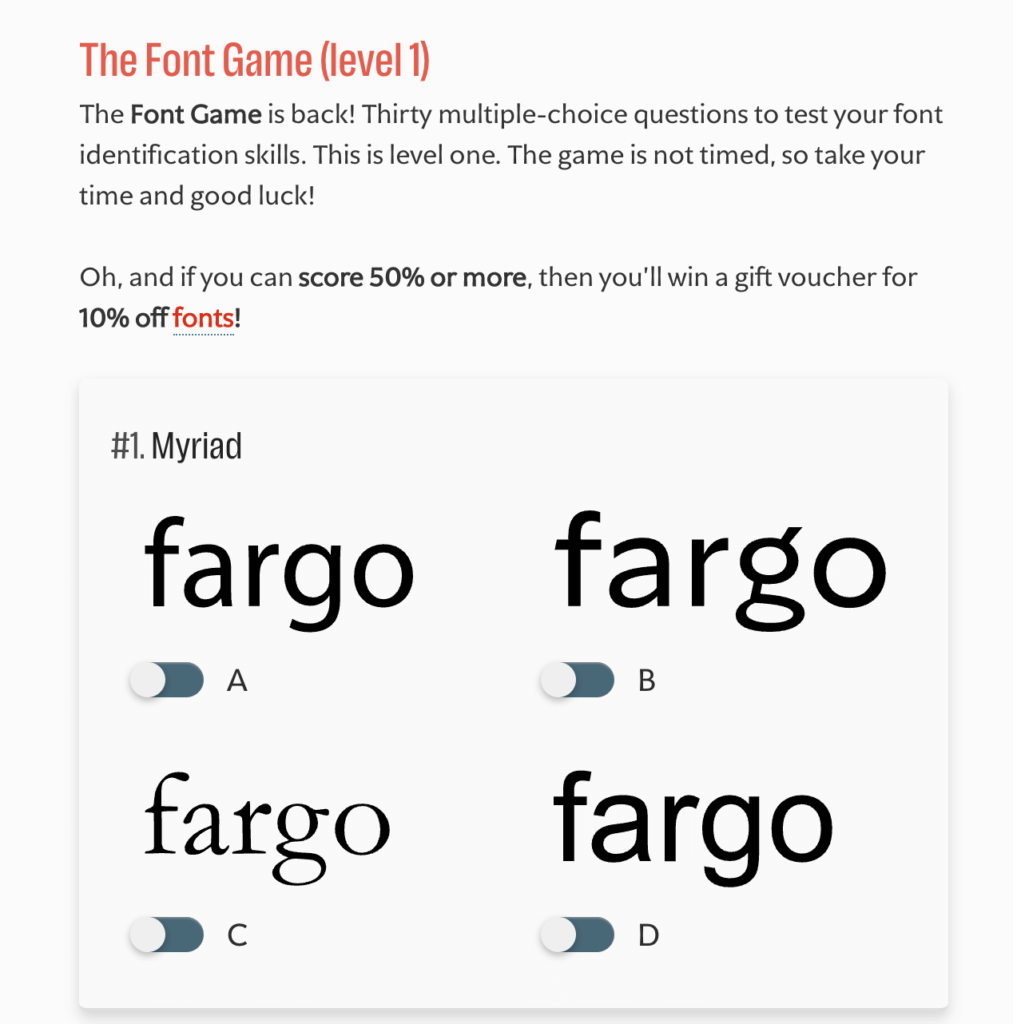 ---
Cheese or Font? Name identifying game
Can you cut the cheese? Thoughtfully, this game asks you to choose whether the presented name is a font or a cheese name. Hunger-inducing and addicting! There are two levels, Cheese or Font 1 and Cheese or Font II Quiz.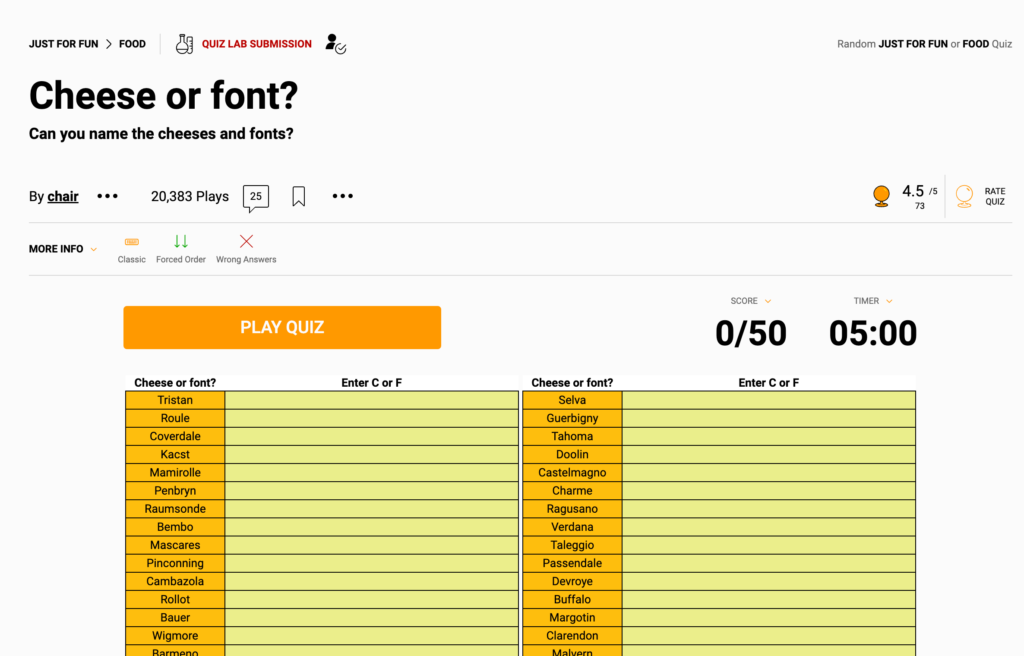 ---
I Shot the Serif: arcade-style type game
This game is FREE from the Apple Store and challenges you to shoot only the 'serif' fonts within the available time to move on to the next stage. After all, "I Shot the Serif! (but I did not shoot the sans-serif)." 🎵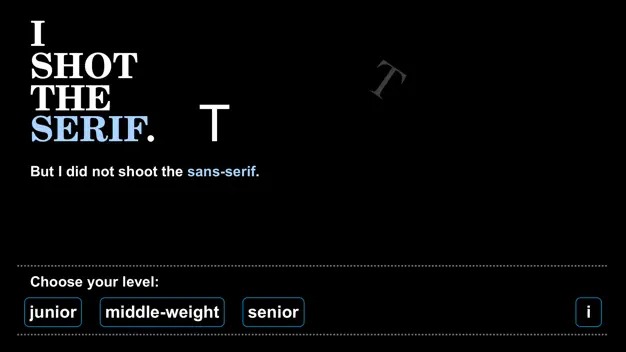 ---
A Guide to Typography – themed deck of playing cards
This deck of cards is designed by Caisa Nilaseca for DesignTAXI. Each playing card teaches a typographic term. A perfect gift for graphic designers and typography snobs, this card deck can be purchased from BZA.co for around $30.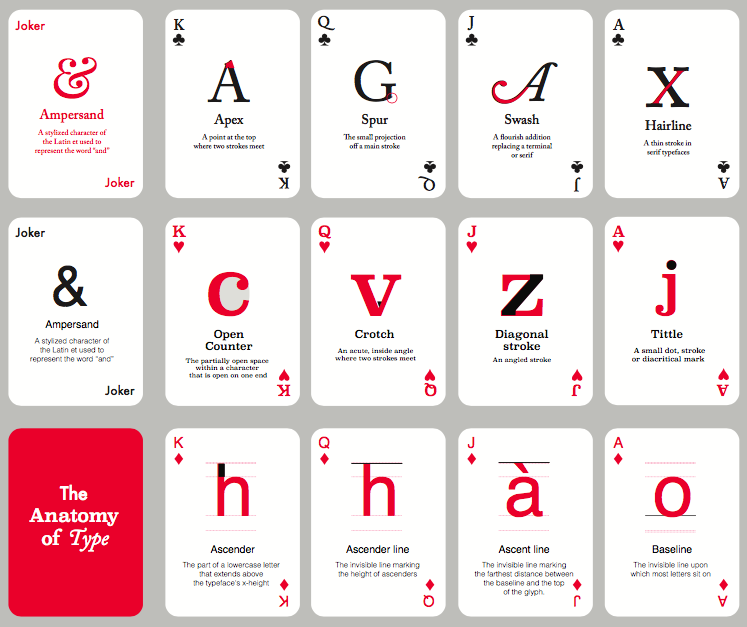 ---
Arial or Helvetica: Famous logo quiz
This Arial or Helvetica quiz was created by David Friedman back in 2009 on his ironicsans.com blogging site.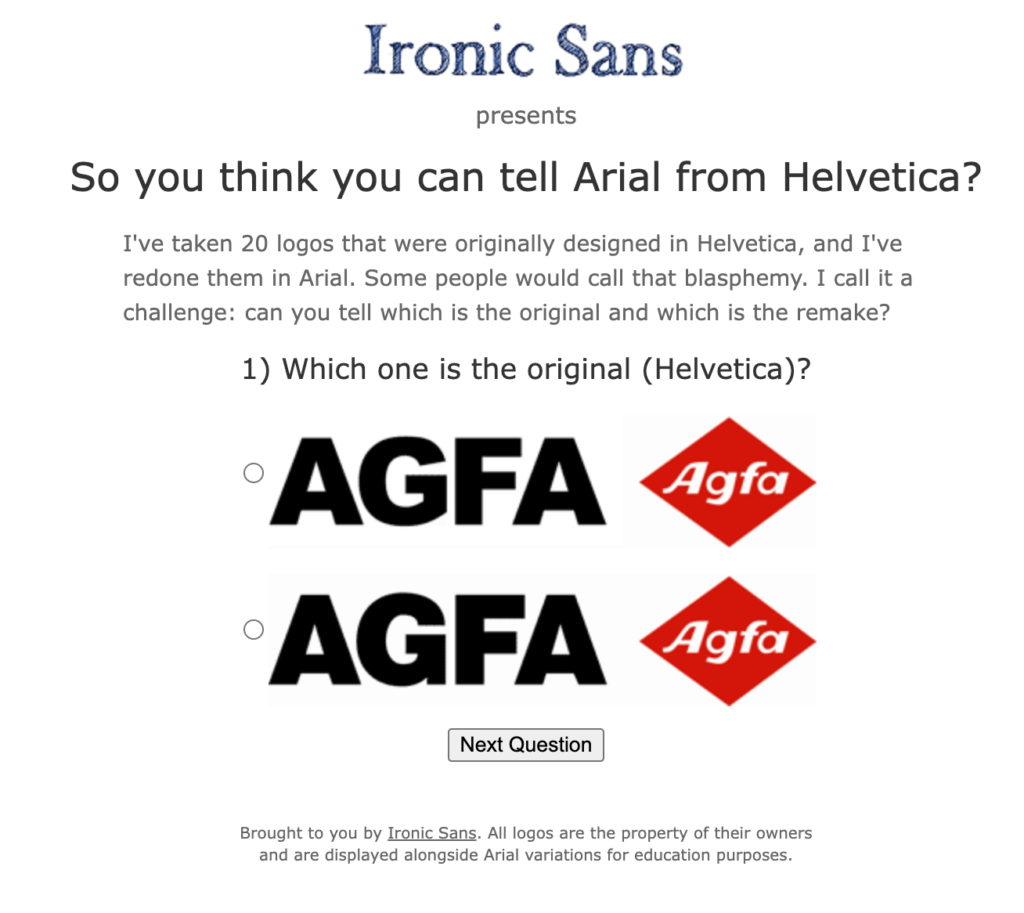 ---
Kill Comic Sans – A flash-based game
No longer accessible on machines and browsers without Flash, this arcade-style game was built in 2009 by Objective (a digital product design and development firm) and plays off of a designer's mutual hate of the Comic Sans font.
---
Thinking with Type: Online type primer by Ellen Lupton
Intended as a companion website to Lupton's book, Thinking with Type, this website is chock-full of useful anatomy diagrams for letters, grids and more.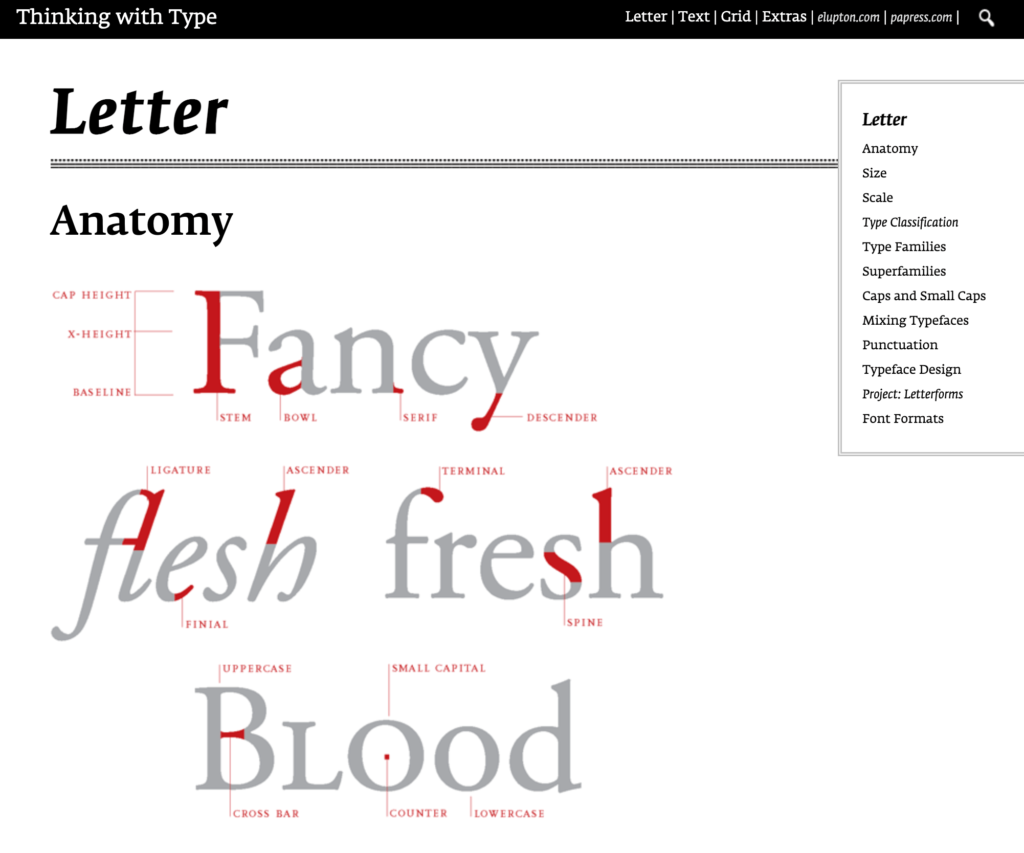 ---
On another note, I enjoyed this Smashing Magazine eblast about Typography on the web. You probably will too.