SSL Certificate Expiration
Your website shows, "Your connection is not private" because you do not have an active SSL Certificate. In general, the error "NET::ERR_CERT_DATE_INVALID" results from an expired certificate.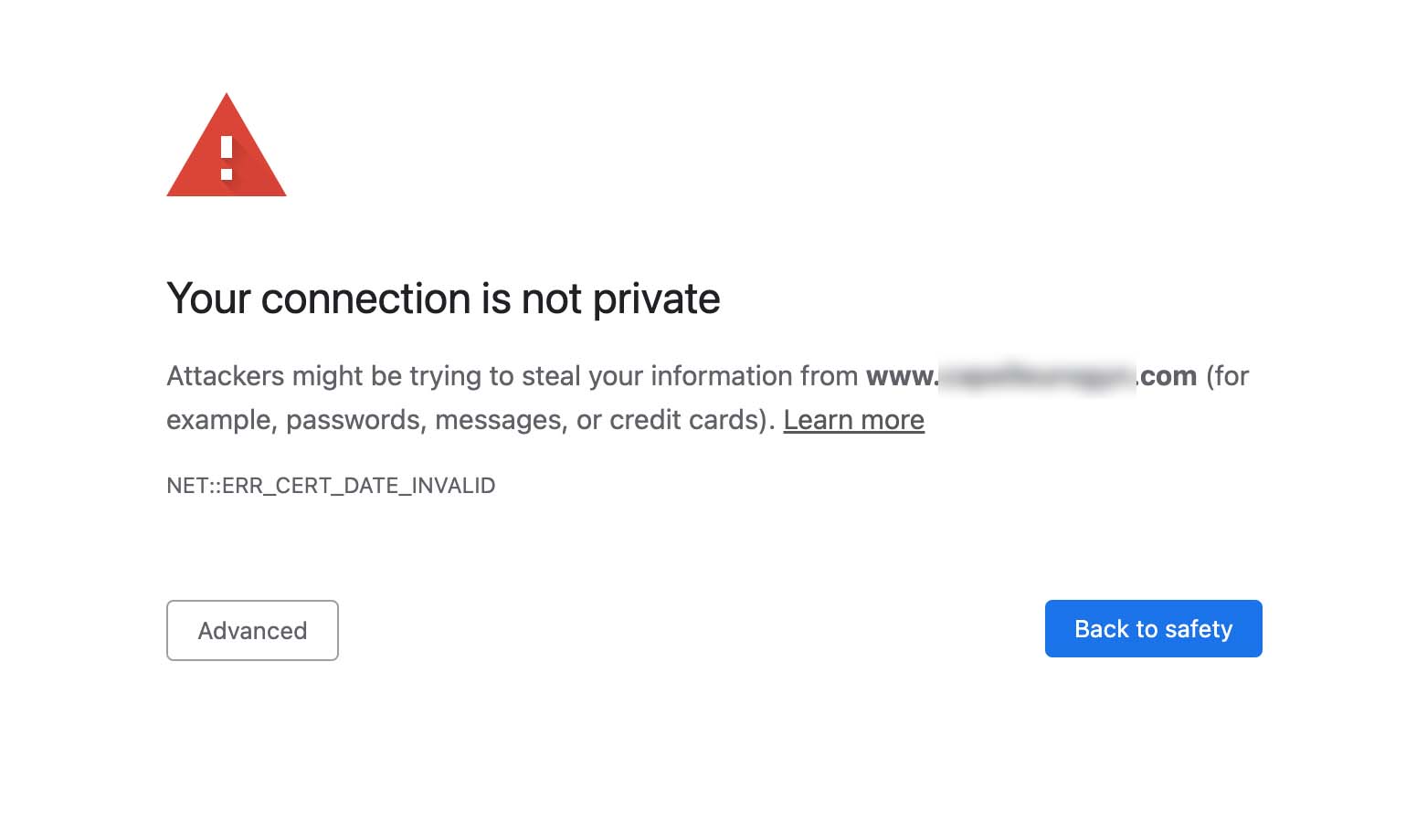 What do I do to fix the "Your connection is not private" warning on my website?
To fix the "Your connection is not private" warning on your website, renew and activate a new valid SSL certificate on your website. In other words, simply logging into your website and renewing your security certificate will likely fix this issue. For most small business owners, this error results from not selecting auto-renew for an SSL certificate, an expired credit card on file, or a hosting provider that requires requesting a new certificate each year.
Three website components require renewals and ongoing payments:
Domain Name (this is your online address like google.com, myshop.com, example.com)
Hosting (this is the service that makes your website live on the internet for users)
Security Certificate (this makes your website use a secure protocol. It makes your web URL include HTTPS and shows a lock in your browser window)
Ensure to select auto-renew for each of these services and always keep a valid credit card with your service provider. Often, you can also choose to pay for several years upfront.
Fix an outdated security certificate
If your SSL Security Certificate is out-of-date, your website will display a safety warning to site visitors. As a result, most guests will not visit your website. The solution to fix and remove this warning is to activate a new SSL Certificate for your website.
Each hosting company has different policies for how to activate a security certificate. For instance, some companies charge for an SSL certificate separately, and others include the SSL Certificate cost in the hosting plan. SSL renewal activation is automatic with some providers, while others require that you request customer service to activate the certificate. Others allow customers to turn on and off SSL via a hosting control panel to add to the spectrum.
Can I still access my site if I see a "Your connection is not private" error?
You can still access your site even if the SSL certificate is expired. In Chrome, look for the button labeled Advanced. Click Advanced. Next, look for the line that reads: "Proceed to URL (unsafe)." Click to proceed to visit your intended website still.

Note: You will see a red warning and crossed out HTTPS in your Chrome browser URL bar when you proceed. These indicate that your website and browsing are not secure.

Common questions about expired SSL Certificates on your website
Can my site still be accessed with an expired SSL certificate and the error "Your connection is not private?"
Yes, your website can be accessed even with an invalid SSL certificate, but most visitors will not know how to access your website. Here's how to access your insecure site on Chrome. Click the Advanced button and the link, "Proceed to… (unsafe)." These extra clicks will load your website, even with an expired SSL.
How do I prevent this error from happening in the future?
The simple answer is to purchase hosting that includes SSL automatically bundled or to set your SSL certificate to auto-renew and install each year.
How long does it take for the SSL to go live after renewal?
The time it takes for an SSL certificate to go live after renewal varies. Many customer support agents can immediately activate a new SSL certificate. For instance, activation may occur while the rep is on chat or a phone call with you. Some providers state in their docs to allow 24 hours for SSL activation.
Learn about SSL Certificates on these popular hosting providers
Although a security warning on your website is often alarming, the fix is fast and painless: renew and activate (or re-activate) your SSL Certificate to remove the security warning.