This post is my partial journey of growing a parenting blog focused on kids' art and LEGO bricks.
My New Blog's Stats: Site Traffic Overview
Launch. Crickets. Crickets. And more crickets. I started Arts and Bricks in May 2019 with just a few pages and no website traffic. (Of course, I knew this because I added Google Analytics tracking as soon as I launched my website. It would help if you had Google Analytics tracking, too, because it's FREE and an incredibly powerful tool!)
Based on my Google Analytics, I know that during the first 28 months, the 78 blog posts I published received 100K pageviews from 55K unique visitors who spent an average of 1-minute on my kids' activities niche blog site.
Fluctuations in Traffic
Google Analytics ' reports help me to visualize my blog's traffic and to understand site traffic trends. The pageviews chart shows me that my blog traffic greatly fluctuates based on the current time and effort I'm spending writing and promoting my new blog.
Below I'm sharing a screenshot from Google Analytics. Note that in May of 2020, my blog was receiving almost 1,300 pageviews. This resulted from being at home with my kids and blogging about our day-to-day activities while working less for clients because their businesses were closed. As my time-shifted back to paid design and web client work, my blog's pageviews started to decrease steadily.

The spikes in 2021 seem to result from a timely blog post or a viral Pinterest pin. As you can see, without consistent posts and effort put into the blog, the traffic seems to fizzle quickly.
Blog Growth Indicators
My results and thoughts from the first two years of once-and-a-while blogging
Here is a list of initial growth indicators I'm observing as I build credibility and traffic to my new blog. It's important to note that this blog is still a side project, so please keep this in mind if you're using my experience, results, and timing to gauge your potential success.
1. Others sharing your posts (including bloggers and influencers)
Organic sharing is my favorite traffic growth indicator! I love seeing others trying out our craft ideas, making our LEGO builds, and recommending our activities, crafts, or products. This 100% organic recognition feels excellent!
2. Increased daily revenue by Google AdSense
A right of passage for blog owners is building an advertising-based revenue stream. Acceptance into Google AdSense's program is crucial to this goal and a BIG win. I applied to Google AdSense about 18 months after I started my kids' activity blog in October 2020, and I was denied access to the Google AdSense program until I fixed a few things. I forget what those fixes were, but I believe it was including the proper contact information on my website.
By January 2021, I was approved by Google AdSense and ready to serve ads. I started with an Auto Ads Experiment that was shown to only 50% of users. After the experiment, I attempted to add manual advertisements to my blog, but I got busy and did not spend time on monitoring and evaluation, so they made NO MONEY! Returning to the auto-ad settings immediately generated daily revenue. If you opt for serving automatically placed advertisements, make sure you configure what pages to exclude – like your e-commerce shop!)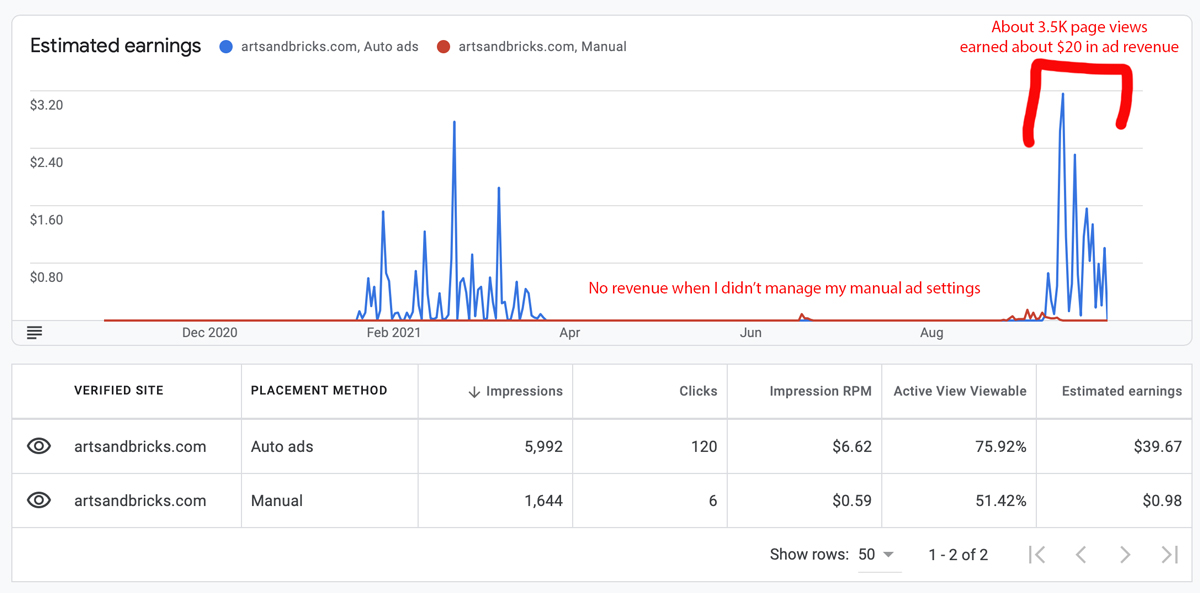 3. Increased daily revenue from Amazon affiliate links
As your website traffic grows, likely the clicks to shop via your Amazon affiliate links will grow, too. To help set expectations, you can see that on my new blog site, over about nine months we had 36K pageviews. And from those 36K pages, users clicked and purchased items on Amazon, resulting in about $85 of affiliate income for us. Amazon affiliate links on a new blog are not a get-rich-fast scheme!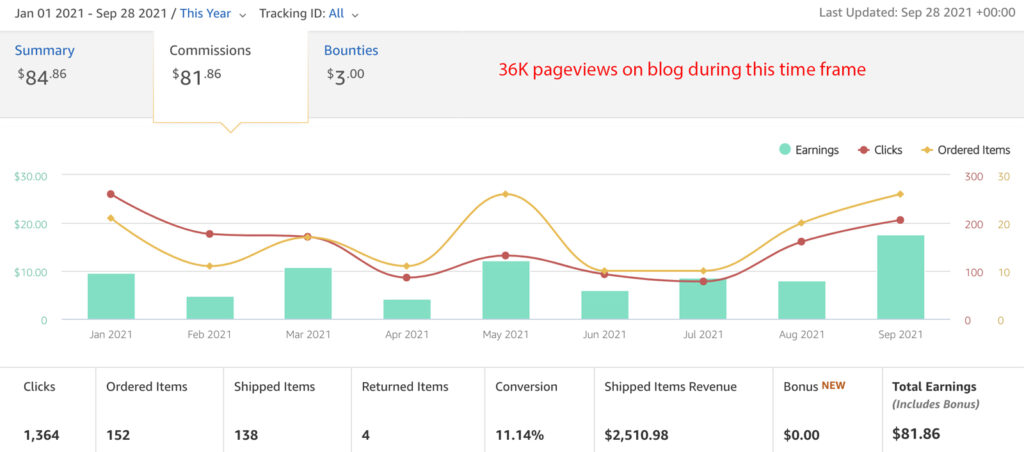 4. Requests by authors and businesses
Make sure you have a clear way for customers, product owners, writers, media, and others to contact you from your website. A contact form with anti-spam methods turned on is a good option. You may choose to publish a general contact email address, too.
So far, the requests I've received are from potential guest authors, product owners who want us to review their products, and those who want to have a link included in one of our well-ranking posts.
Guest Author Requests
I was reached out to by an author promoting a complementary subject, the health benefits of being outdoors for children. We've agreed to publish an article on this topic every quarter. This is currently a free arrangement as the benefit is mutual. The benefit to me is that I have fresh content (that I didn't have to write) with a motivated promoter to share the link to my post. The benefit to the guest author is the placement of a new post with a relevant audience.
Product Review Requests
My kids think this is awesome! In our case, my kids get to review the provided products, which makes them very happy! For our blog, we make sure to post that the article is Sponsored and that we received the product for free in exchange for writing a blog post that shares our honest opinions.
Link Inclusions – Backlinking
I've received several requests to have an external website or blog linked to one of our well-performing posts. To date, none of the requested links have made sense to add.
Requests for inclusion in directory pages
One of Arts and Bricks's most popular posts is a round-up of used LEGO stores near me. It lists independent LEGO resale stores in the United States, state-by-state. We consistently have new and established store owners contact us to be added to our directory listing.
Conclusion
Experimenting and tracking successes as I grow Arts and Bricks is fun. I'll continue to add thoughts and stats as my kids' craft and brick-building blog continues to grow.