Bloggers and writers carefully weave their personal creative writing style in addition to SEO best practices and appropriate reading level guidance into their writing.
Let's tackle readability to reach a target Readability Score for a blog post.
So, what is a webpage Reading Level Score?
A webpage Readability Score is a numerical score that calculates how readable the content of your webpage is to others. This score determines the estimated reading level of your blog post.
What are the most common readability tests?
The most popular test is Flesch-Kinkaid, but there are other readability tests, too.
Flesch-Kincaid readability test
The Gunning Fog
The Simple Measure of Gobbledygook (SMOG)
What reading level is recommended for my blog post?
Most recommendations say an eighth-grade reading level is the best choice for most blogs. However, know your audience. If you're writing to an audience of executives or college PhDs, you may get away with a higher grade level score.
Why should I write my blog posts at an eighth-grade level or below?
Plain and simple: for readability. The intention of writing a blog is that your readers understand what you're writing. To be comprehended by the broadest audience, your blog post's readability score should be 8th grade or lower.
It is highly stated that the average US resident reads at an eighth-grade level or below. The Literacy Project provides these almost shocking stats:
45 million Americans cannot read above a fifth-grade level
50% of American adults cannot read a book written at an eighth-grade level
In light of these literary stats, it makes sense to aim for 8th grade and below!
How do I find the reading level of my blog post?
The easiest way to test the reading level of your blog post is to run the content of your webpage or blog through a reading-level tool test. I recommend using a tool that checks as you write, but you could also write and then tweak after writing your first draft.
Many free and paid desktop and online tools help bloggers determine the reading level of blog posts. These apps use one of the formulas in common readability tests, such as Flesch-Kincaid, Gunning Fog, and SMOG.
Tools for assessing your blog post's reading level
These are the tools I use and can therefore recommend. You'll note that they each use the Flesch Kinkaid reading ease tests, yet surprisingly, the same blog posts receive wildly different scores.
My thoughts: I find Grammarly the best overall writing improvement tool. Especially for WordPress blogs, I prefer the Yoast SEO WordPress plugin. The Smartcrawl SEO plugin is more difficult to please than the other tools and gives fewer prompts.
You can find many other tools online by searching keyword phrases such as "webpage readability test." Check out these Google search results or explore a few of the other online tools I found below:
What readability level test does Grammarly use?
Grammarly provides a readability score based on the Flesch reading ease test. Grammarly does not a WordPress plugin, but you can use Grammarly to check your writing by using the Chrome Browser Extension or copy/pasting your content into the Grammarly Editor.
Below is an example of the Readability score in Grammarly's Editor for a blog post. This specific post ranks as 68 which is Plain English.
What readability level test does Hemingway use?
The Hemingway Editor uses the Flesch-Kinkaid reading score and highlights the use of adverbs, passive voice instances, and the number of difficult phrases and sentences present in your writing.

What readability level test does Yoast SEO WordPress plugin use?
Yoast SEO WordPress plugin uses the Flesh-Kinkaid scoring system. A score of 60 to 70 is okay to read and so is shown as green or success!
Because the Yoast SEO WordPress plugin does a fantastic job giving your prompts and suggestions to improve your writing and reading score, it is ranked the #1 SEO Plugin for WordPress. I prefer this plugin for SEO, but on some sites, I do use the Smartcrawl SEO tool, instead.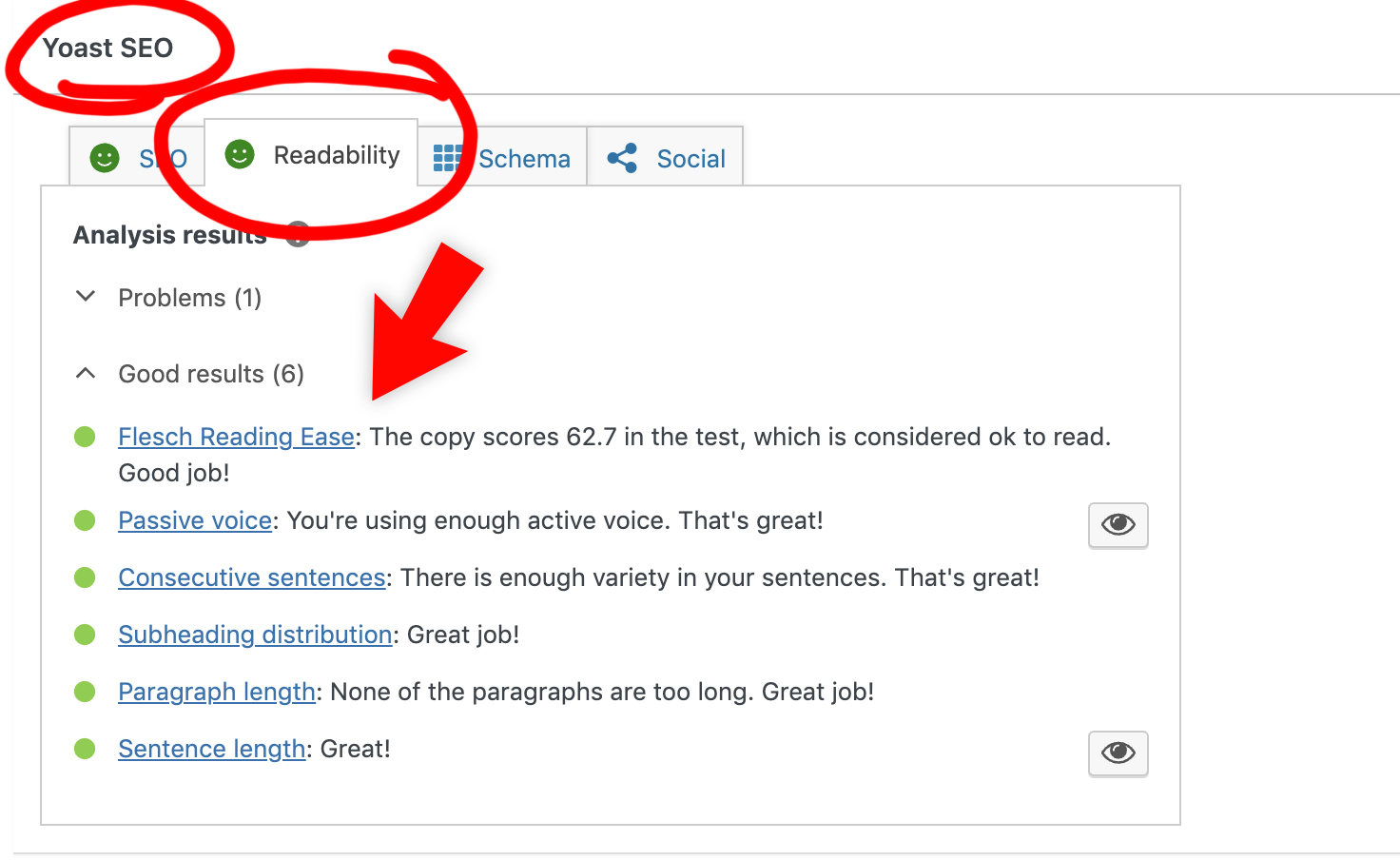 What readability test does WPMU DEV Smartcrawl SEO tool use?
WPMU DEV Smartcrawl SEO tool uses the Flesh-Kinkaid readability test. The SmartCrawl SEO WordPress plugin screenshot below shows results for a blog post that does not pass the Flesch-Kinkaid test for 8th-grade readability.
This page falls within the 30 to 50 point score and displays "Difficult to read" in a red warning color.
The Flesch-Kinkaid test goal for an accessible and readable blog post is a score of 70 to 80. Therefore, a blog post that scores in this 70 to 80 score, or 8th-grade reading level, highlights with a green notification that reads, "Fairly easy to read."
The Flesch-Kinkaid score calculates a score based on average sentence length and average word syllable count. Because of this, you can improve your Flesch-Kinkaid score by shortening the length of your sentences and paragraphs.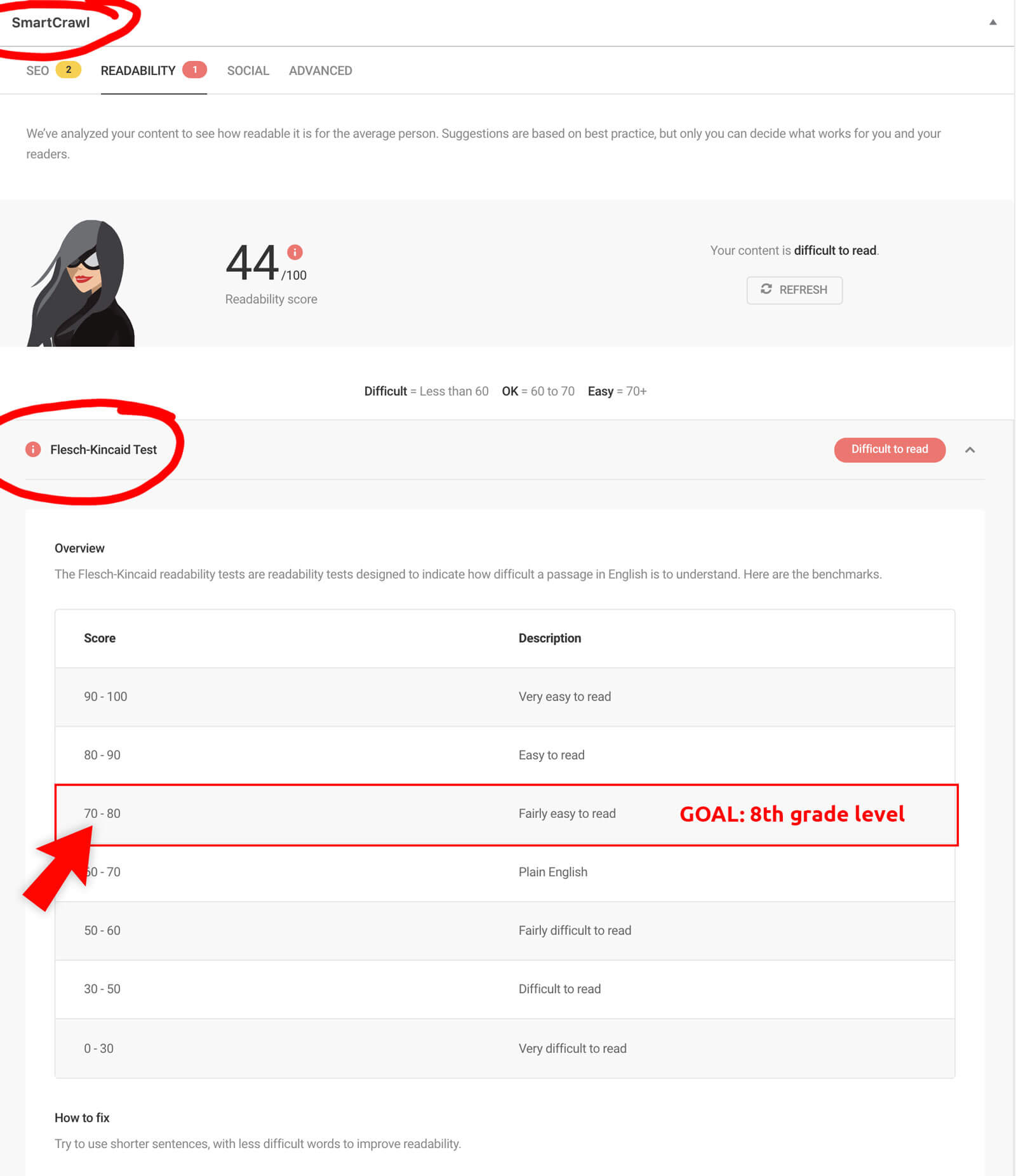 ---
Looking for other tools and apps that might help you as a blogger or online solopreneur?
Here's my list of recommendations and tips. Did you find this useful? Are there other favorite tools that you use? Please comment below.