I'm a designer and web developer using a powerful iMac for work. Remotely accessing my iMac is surprisingly challenging and cost-prohibitive. This constraint can make accessing remote files during in-person meetings, travel, or vacations challenging and stressful.
In this post, I share a few stress-free options for solopreneurs to access their files reliably and affordably remotely. For the past few years, I've opted to use Splashtop because it has the features I need and costs $60 for the entire year. I have an affiliate link for Splashtop that adds 30 bonus days to your trial for free, too.
Tip: I'll often switch my desktop computer to be hardwired instead of using wifi when I leave on an extended vacation – just in case something goes wrong with my wireless.
TeamViewer
I have many years of experience using TeamViewer. It's very reliable!
The catch with TeamViewer is that it may be cost-prohibitive for a solopreneur. Teamviewer currently costs $50.9/month billed annually at $610.80 for the lowest tier of professional use. There is a new option for individuals that is $24.90/month or $298.80/year.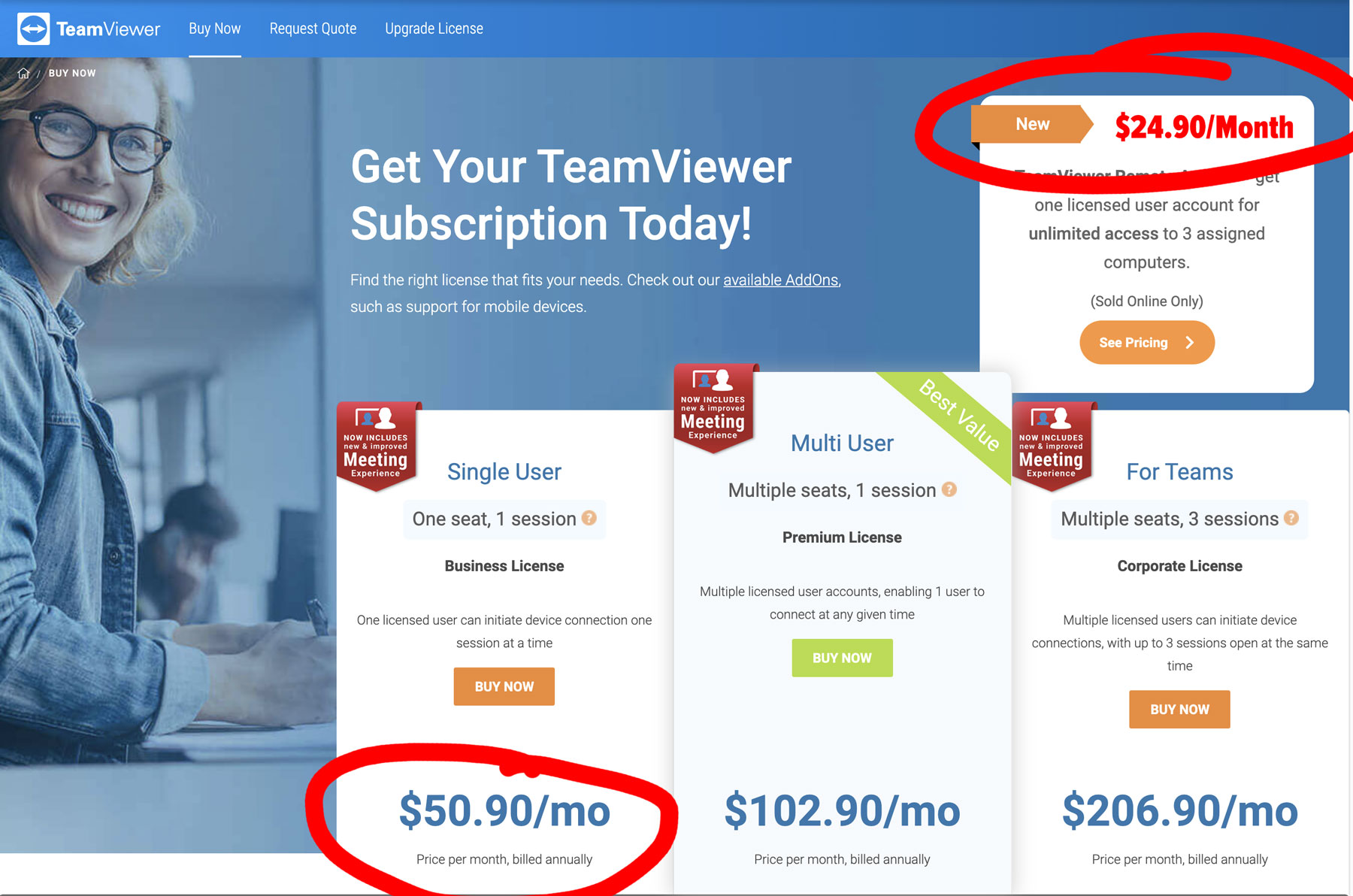 Teamviewer does have a free option, however, it is intended solely for personal use. Personal use is defined as accessing family and friends' computers and doing tasks on your devices that are not commercial in nature. Specifically, checking your work email is off-limits. TeamViewer writes, that personal use excludes "any purpose for which you directly or indirectly receive compensation."
In an effort to eliminate the abuse of this free, TeamViewer does monitor your access patterns and will notify you of "Commercial use suspected" and prevent you from further connections to that device's id. So, play by the rules, and if you think you've been flagged inaccurately you can contact TeamViewer directly for a review.
Tips for All Remote Access Apps
If I'm leaving on a trip, I always change my computer's settings so that my desktop computer does not fall asleep. Over the years, the culprit of being "locked out" has always been Sleep mode.
Also, if you don't already do this, make sure your computer is connected to a backup battery so that your computer doesn't get turned off when you're away due to power fluctuations or power outages.
Affordable TeamViewer Alternative Remote Desktop Access Apps
As a solopreneur, there will undoubtedly be times when you need to remotely access devices (especially during vacations).
You may find that you travel enough to warrant paying for a subscription to a remote access service provider. Did you know that you may also be able to push off those costs for a year or more by trying out FREE trials from a variety of competitive remote access service providers?
For instance, ISLONLINE has a 15-day free trial. LogMeIn Pro provides 14-days during their free trial. Splashtop's free trial is 7 days. Those three free trials alone might cover your vacations for the first year of your solopreneur adventure!
If you need extra days, or are looking to commit to one service, but are cost-conscious, Splashtop has a Business Pro Solo account that is only $5/month or $60/year. This is by far the most affordable option I've found to date.
Splashtop for Remote Access
Currently, Splashtop offers a 7-day Free Trial. I have an affiliate link that provides you an extra 30 days free, too (SplashTop: 30+ Bonus Days). These free trials might work great for a short weekend trip or even a family vacation. Splashtop's setup is easy, and the trial does not require a credit card.
Here's how to get started with Splashtop: On the computer, you want to access while you're away, download the Splashtop application. You'll also download a Splashtop application from the computer you'll be working from.
As long as you have your Splashtop login and password, you should be able to access your at-home or at-work computer consistently from any computer while you're away; just remember you'll need to download an app.
Tip: Make sure to test your connection before you leave town, as the first time you run the application on your home or work computer, you'll need to agree to many sharing permissions.
Tip: I've run into issues where the app threw an error. Don't forget that you can also log in to your account and your remote computer via the Splashtop website. I found that using the website was a successful workaround when the app access was erroring.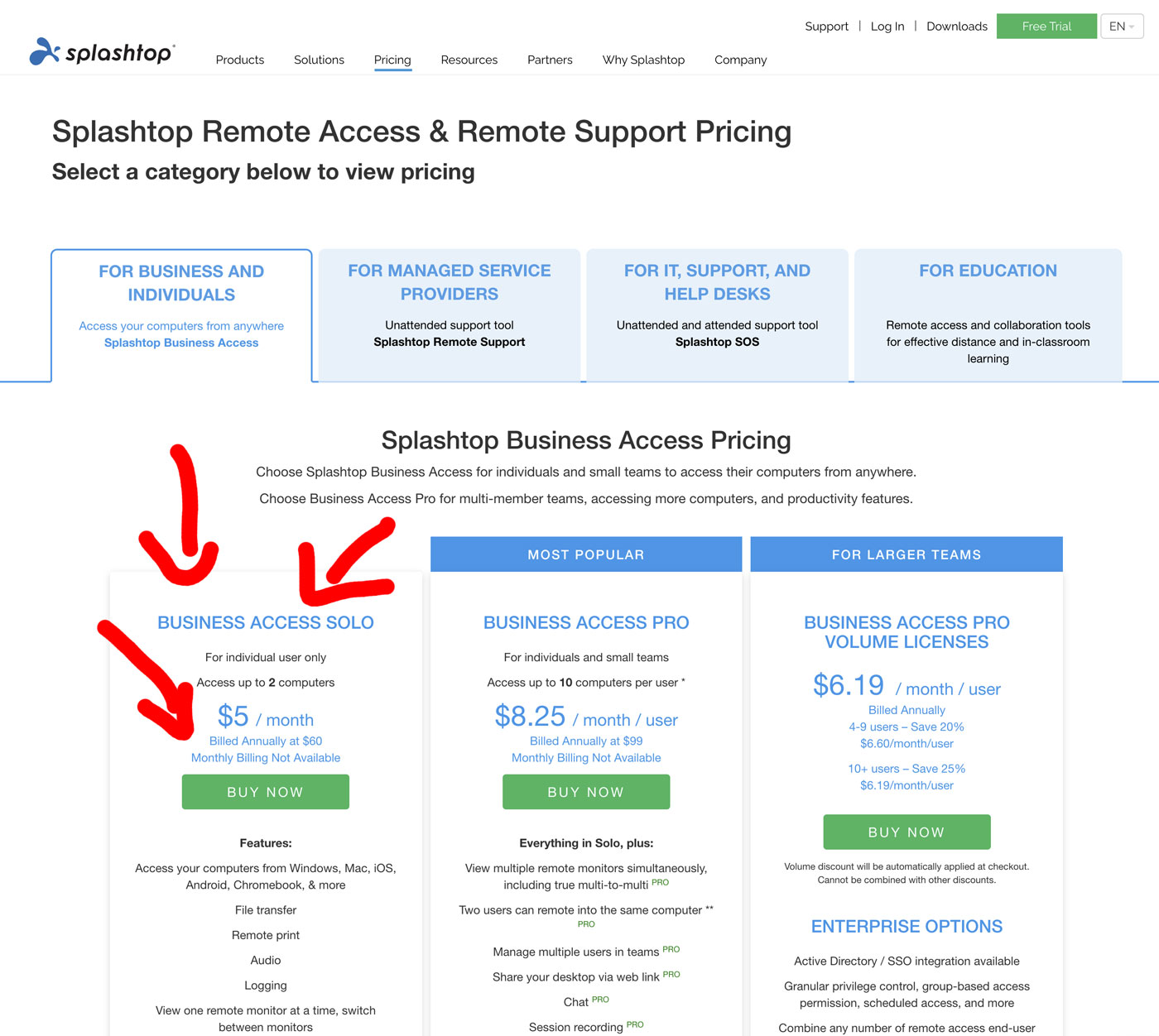 ISLONLINE for Remote Access
During a recent vacation, I decided to try out ISLONLINE as my remote desktop application.
Let's talk pricing: ISLONLINE is available for $469/year. There's also a Pay-Per-Use option that is $145 per each 500 min/year. What I took note of was the ISLONLINE Free Trial option. This provided full access to all services for 15 days, which covered my scheduled vacation time perfectly!
The install process was a bit confusing, but once I had it installed correctly and had tested it several times, I felt confident to start my vacation traveling with just my laptop.
I did remotely access my desktop 3 or 4 times during my vacation. The connection worked smoothly and I was able to access the files and applications that I needed to take care of the random requests that required my attention during my time off. The best part, was the service was FREE during my 15-day trial which I started the evening before I left town.